January 16, 2020
Pigeon Forge has plenty of things for your family to do while you're in town! We know you're looking for entertainment for yourself and the kids, and we want to share the top Pigeon Forge attractions for families with you! Whether you want to learn and have fun or experience thrills, there's something for everyone to enjoy, including our show and adventure park of course! Check out these top 4 Pigeon Forge attractions for families you need to experience:
1. Lumberjack Feud Show and Adventure Park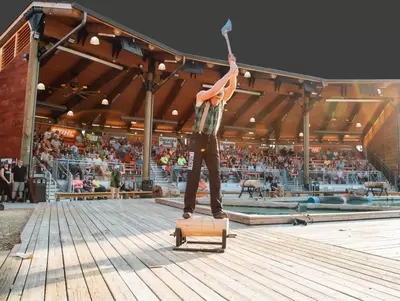 We can't talk about fun things to do in Pigeon Forge without mentioning our show and adventure park! Adults and kids alike will love watching our lumberjacks compete head to head to see who comes out on top in 13 events. Watch axe-throwing, wood-chopping, and log-rolling. You won't be able to take your eyes off of the lumberjacks throughout the show! Plus, if you love thrills, you have to visit our Adventure Park. Try some of the events you saw in the show at Loggersports, make your way through the High Woodsman Challenge ropes course, try free-fall jumps at Timber Towers, and experience thrills on the Flying Ox. Your whole family will have a blast at Lumberjack Feud!
2. The Island
If you want to do something fun where you can shop, ride, and relax, you have to take your family to The Island. You can browse through more than 40 specialty stores, from toy stores to bath and body shops. There are all kinds of shops where you can grab snacks. Your kids will love Cinnabon, Auntie Anne's, and Poynor's Pomme Frites. Hungry for a full meal? Eat at Paula Deen's Family Kitchen! Want to do something exciting? Ride The Great Smoky Mountain Wheel to see incredible views of the mountains or do the ropes course with the whole family. Everyone will love visiting The Island in Pigeon Forge.
3. Dollywood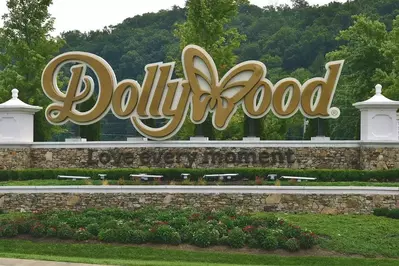 One of the top Pigeon Forge attractions for families is Dollywood! There's truly something for people of all ages to experience and enjoy at this theme park. Listen to your favorite songs sung by talented musicians. Ride all the roller coasters if you love thrills. Take your small kids to the Country Fair to ride Busy Bees or the Carousel. Get the whole family aboard the Dollywood Express to see every part of the park. Eat delicious meals and snacks throughout the park, from fried chicken to kettle corn. Dollywood is definitely something you need to experience! If you're visiting the Smoky Mountains in the winter, keep in mind that Dollywood is closed for the season from early January through mid March.
4. Crave Golf Club
Do your kids love playing games? Take them to Crave Golf Club where you can all play mini golf together! Crave has both an outdoor rooftop course and an indoor course that are 19 holes each. Both courses feature a variety of desserts, from candy to cakes! Playing around these sweet treats will make you want some, but we have good news — you can grab some while you're here! Crave has an ice cream bar where you can get cups or cones with unlimited toppings, and they also have a huge selection of candy you'll want to eat. Don't want the fun to end? Try mini bowling or one of their escape games!
There are all kinds of Pigeon Forge attractions for families you'll want to experience. Before you plan anything else, learn more about our Lumberjack Feud Show and reserve your tickets!