January 14, 2022
Lumberjack Square in Pigeon Forge is a great entertainment center you'll want to check out while you're in town! You'll find quite a few restaurants and plenty of entertainment, as well as some unique shops to browse through while you're exploring the area. Shopping is a popular pastime in Pigeon Forge, and you won't want to miss out on any of these stores! Here are 4 shops you need to visit in Lumberjack Square in Pigeon Forge:
1. The Coal Miner's Daughter Mercantile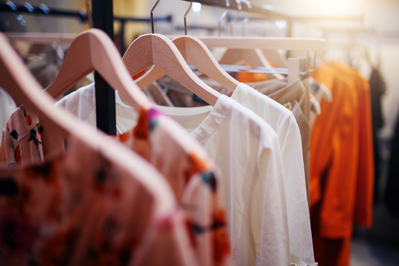 If you love all things trendy, then you'll definitely want to stop by The Coal Miner's Daughter Mercantile! As you make your way through the store, you'll spot all kinds of home decor that will make your home even more cozy, including wall hangings, wreaths, and all kinds of knick knacks. You'll even find seasonal decor you'll want to take home! In addition to home decor, you'll find popular t-shirt brands, boutique clothes, jewelry, and so much more in this store. What makes The Coal Miner's Daughter Mercantile unique is all of the items you can purchase are from local, small businesses, so not only will you get to take home a beautiful gift, you're helping small businesses too!
2. Pepper Palace
Pepper Palace is another store you will want to stop by at Lumberjack Square in Pigeon Forge. Anyone who loves hot sauce will want to explore this store since there are great finds, like Ghostly Garlic Fusion Hot Sauce or Kraken Hot Sauce. They have a wide variety of spice levels, so everyone will find a sauce that fits their preferences! In addition to hot sauce, Pepper Palace also has classic and unique BBQ sauces and wing sauces, glazes, marinades, and salsas. To spice up your next get together, you can even bring home drink mixes, dip mixes, and all kinds of condiments. You'll have a blast walking through Pepper Palace!
3. Smoky Mountain Popcorn Co.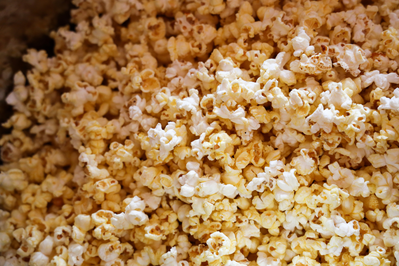 Another store foodies will want to check out is Smoky Mountain Popcorn Co. Of course, you'll be able to get classic popcorn flavors, including butter, salt and pepper, and white cheddar. You'll also find some interesting flavors you've never tried before, including spaghetti, seafood festival, and taco. If you prefer sweet popcorn, you'll want to try banana split, peanut butter pie, or cookies and cream. Popcorn isn't the only treat you'll find at Smoky Mountain Popcorn Co. though; there's also fudge and candy!
4. The Dugout
Any sports fanatic will love looking through the goodies at The Dugout in Lumberjack Square in Pigeon Forge. Card collectors will love browsing through the cards in the store, and you'll also find other collectible items, including framed prints and bobbleheads. Pick up your favorite team's jersey, or grab some figurines to give to a loved one! There are all kinds of specialty items at The Dugout!
Visit Our Pigeon Forge Show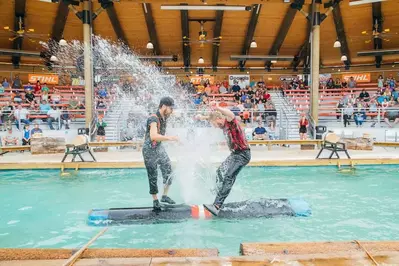 Once you've visited all of these stores, you may be looking for something fun to do, which is why you should head over to Lumberjack Feud and watch our show! There's nothing quite as exciting as watching the Dawsons and the McGraws compete in 13 different lumberjack events. You'll be on the edge of your seat as you watch them throw axes, climb the log towers, and race across logs in the pool!
Are you ready to book your tickets for our show in Lumberjack Square in Pigeon Forge? Reserve your spot to see Lumberjack Feud on your next trip today!