August 10, 2022
Pigeon Forge is a wonderful vacation destination for people of all ages! You will find all sorts of amazing restaurants, shops, and activities that are surrounded by the stunning backdrop of the Smoky Mountains. The only downside to vacationing in the Smokies is that there is so much to do in a short amount of time! That is why we have put together this guide to the best day in Pigeon Forge TN:
1. Check Out Our Adventure Park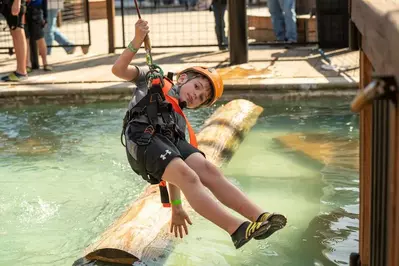 Embrace your inner lumberjack and bring your family to our exciting Adventure Park for an afternoon or evening of high flying thrills. The park features 4 sections that you can explore! The High Woodsmen Challenge is a lumberjack-themed ropes course that will test out your agility and balance. In the Loggersports section of the Adventure Park, you will take on events that are featured in our show, including the Log Roll, Boom Run, and Speed Climb! The other two sections of the park, the Flying Ox and Timber Towers, will take you high in the sky on an adventure you won't soon forget.
2. Chow Down on Southern Cooking
Throughout Pigeon Forge TN, you will find a variety of delicious restaurants to try during your vacation. One of the places you don't want to miss is Paula Deen's Family Kitchen, which is located at The Island in Pigeon Forge. Inside the restaurant, your family will enjoy classic recipes that come straight from Paula Deen's cookbooks. The best part is that everything is served family-style, which allows you to sample all sorts of wonderful entrees and side dishes. While you enjoy your meal, you will be treated to an amazing view of The Island, including the gigantic Ferris wheel and the dancing fountain.
3. Watch Our Exciting Show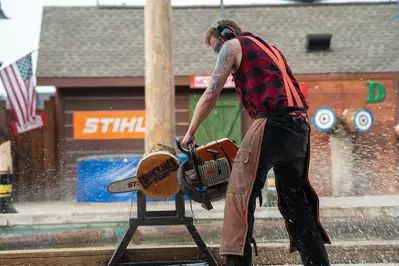 Now that you know how you can test out your lumberjack skills, you can also sit back and watch the professionals show you how it's done. During our thrilling hour and a half Pigeon Forge show, you will watch real lumberjacks tackle 11 exciting challenges. Your group will be assigned to become an honorary member of either the Dawson or McGraw family, and it is your job to cheer as loud as you can for your team. For each challenge that your family wins, you will have the chance to take home one of the coveted Lumberjack Feud Cookies, so be sure to get up and yell!
To go along with our show and Adventure Park, there are plenty of other exciting things to do when you visit Lumberjack Square, including shopping. There are a variety of stores to explore that offer all sorts of wonderful Smoky Mountain souvenirs. With a clothing boutique, an art gallery, a sports shop, and much more, you'll have tons of unique souvenirs to take back home to your friends and family.
Are you ready to experience the best day ever in Pigeon Forge TN? Book your tickets to see our show and experience our Adventure Park! We look forward to seeing you soon!