September 15, 2023
There is no better time to take a trip to the Smokies than during the fall season! If you have never visited during the fall before, the stunning autumn colors and beautiful weather make your time in the mountains extra special. Plus, there is always something new to discover, like our supper show with side-splitting comedy, jaw-dropping stunts, and friendly competition! Keep reading for a few reasons why you should visit Pigeon Forge in the fall:
1. Cooler Temperatures
If you are one who does not do well in the heat, then coming during the autumn season makes perfect sense! There are many places in Great Smoky Mountains National Park to explore, and you can enjoy it more when it is less hot and crowded. Also, you can take your time browsing the shops at Lumberjack Square, and your kiddos will have a blast at our Pigeon Forge Adventure Park! Other outdoor activities you can do as a family include mini-golf at Crave Golf Club and a scenic walk along the Riverwalk Trail. This accessible, paved trail is pet-friendly and also a great area to bike, taking you past the LeConte Event Center and all the way to the Pigeon Forge Community Center.
2. Fall Foliage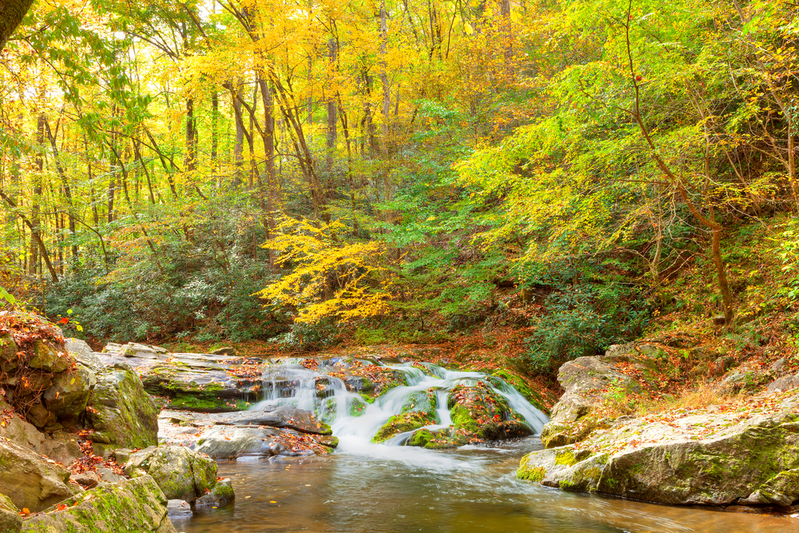 By far, the best thing about visiting Pigeon Forge in the fall is the bright fall foliage. A few ways to make the most of admiring the variety of reds, oranges, and yellows is to take a picnic to Patriot Park, drive along a scenic road like Wears Valley Road, bike along the Cades Cove Scenic Loop, or go on a hiking trail in the national park such as the Alum Cave Trail. The natural scenery of the Smoky Mountains in the fall is unmatched; we suggest taking some family photos while you are surrounded by such a beautiful backdrop!
3. Seasonal Treats & Events
Another great thing about fall in Pigeon Forge is the events happening throughout the season. And, of course, the pumpkin and apple-flavored treats that are so popular this time of year! We recommend going to Paula Deen's Family Kitchen for a delicious breakfast before heading over to The Island and enjoying their fun autumn festivities. The Wears Valley Fall Fest is always a fun event, and you can't go wrong with a walk through the corn maze at Kyker Farms!
4. Our Supper Show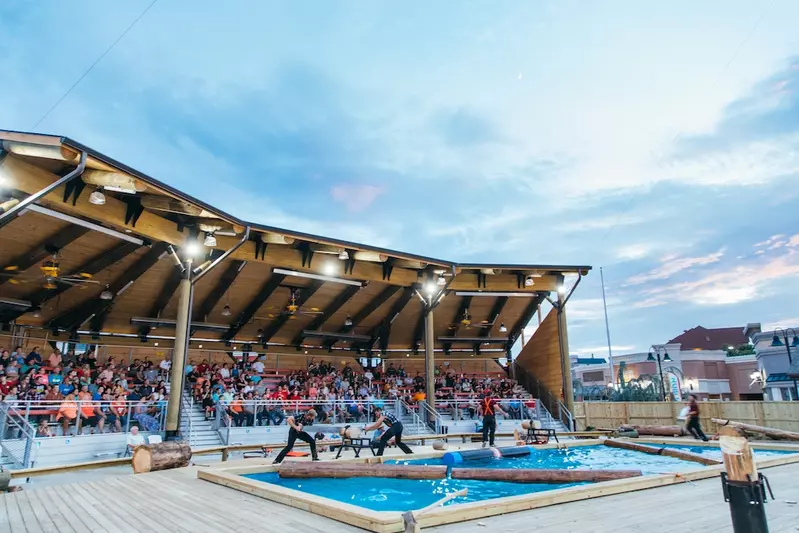 Paula Deen's Lumberjack Feud is the best family-friendly show in the Smokies, top-rated for our high-energy competition, audience participation, and show atmosphere. And now we offer a hearty supper– a BBQ sandwich, coleslaw, baked beans, a drink, and a cookie. We also have a concession stand with fresh popcorn and snacks, so no one goes hungry at our Pigeon Forge show. You can expect a wild feud, lots of laughter, and a chance for your kids to try their hand at lumberjack skills! And the fun does not end once the show is over! We don't just allow you to talk to our performers after the show; in fact, we highly encourage you to meet our talented lumberjacks and lumberjills and take photos with them as a memento of your experience.
Have we convinced you to visit us in Pigeon Forge in the fall? Take a closer look at why we have one of the best supper shows in Pigeon Forge. We can't wait for you to experience fall in the Great Smoky Mountains!