July 12, 2021
When you travel to the Smokies, you'll be met with all kinds of competition shows! Whether it's family versus family, North versus South or team against team, there are tons of shows with family friendly competitions. When you come see our show, you'll get to see lumberjack face off against lumberjack to determine who's most worthy of the axe! Here is why our Lumberjack Feud is one of the best competition shows in Pigeon Forge:
1. Real Lumberjacks, Real Competition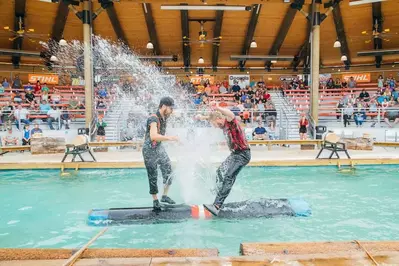 One of the most unique aspects about our show is that our lumberjacks aren't just performers! All of our Jacks hold various national and international titles in different lumberjack competitions. We have world champion speed climbers, internationally-ranked boom runners and more! At other shows in Pigeon Forge, you'll find mostly paid actors and performers. Rarely do you find a show that truly features the best of the best in every one of their team members. You'll love watching these professionals in action as they blow your mind in our featured competitions.
2. Amazing Events
We offer a wide variety of amazing events that'll have you on the edge of your seat the whole time! From classic lumberjack competitions like the Axe Throw and the Double Buck, to thrilling events like the Speed Climb and Springboard Chop, you'll love watching our lumberjacks and lumberjills crush the competition. Towards the end of our show, watch as the lumberjacks take to the water to compete in the Boom Run and Log Roll. These fan favorite events are always incredibly fun to watch! Cheer on your lumberjack as they try their best to stay dry and sink the competition!
3. Audience Participation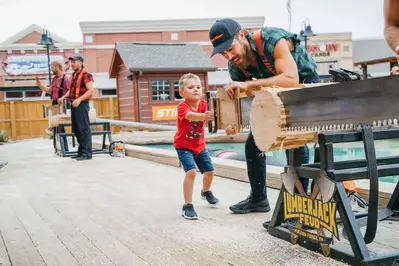 Did you know that Paula Deen's Lumberjack Feud is an interactive show? One of the reasons we're one of the best competition shows in Pigeon Forge is because we bring the audience in on the fun! During intermission, we have a special kids event where your little ones can join in on the lumberjack competition and try their hand at the Double Buck with the help of our professionals! If you cheer loud enough, you may even be selected to hold the Lumberjack Cookie! After every competition, the winning lumberjack family gets to give one cookie to an audience member of their choosing, so get loud and proud!
4. You Can Try the Competition Yourself
If you like what you see in the show, give it a try for yourself at our Adventure Park. You'll hardly find another show in Pigeon Forge that allows you to get in on the fun like our show and Adventure Park do! Try out competitions like the Log Roll or Speed Climb with your own family and see who comes out on top. After you try out all of the Loggersports, check out the High Woodsman Challenge, Timber Towers and the Flying Ox.
Now that you have a better idea of why our Lumberjack Feud is one of the best competition shows in Pigeon Forge, you can start planning your trip to see us! Learn more about our show and purchase your tickets today! We look forward to seeing you!