July 14, 2020
If you've never seen our show before, you may have some questions about it. We want to answer as many of your questions as possible about our Pigeon Forge show! Keep reading to find the answers to your most-asked questions about Lumberjack Feud in Pigeon Forge:
1. When is Lumberjack Feud open?
Lumberjack Feud opens at 10 am every day and closes at 10 pm. You can explore the Adventure Park during this time. Show times are at 2 pm, 5 pm, and 8 pm during the week. Weekend show times are 5 pm and 8 pm.
2. Do I need to book tickets in advance?
You are able to buy tickets at the box office when you arrive at Lumberjack Feud in Pigeon Forge. However, we recommend buying tickets in advance so you get the day and time you want. You can call the box office and order tickets over the phone, or you can book tickets online.
3. How long is the Lumberjack Feud show?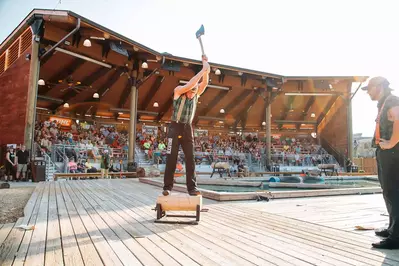 Each Lumberjack Feud show runs about 90 minutes. You can visit the Adventure Park before or after you watch the show for even more fun!
4. Are there assigned seats?
There are no assigned seats in our outdoor grandstand theater. We have bench seating with an overhang to protect the audience from the heat of the sun or the rain. You may sit wherever you want in the theater. We suggest getting to the theater about 30 minutes before showtime so you can choose your seat!
5. Is Lumberjack Feud a dinner show?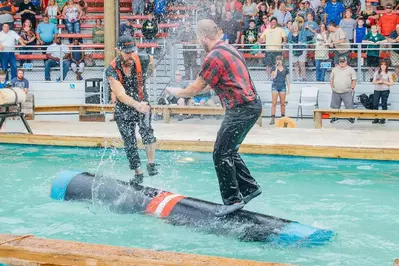 Lumberjack Feud in Pigeon Forge is not technically a dinner show. However, you are allowed to bring food with you to eat while you enjoy our show! We also have a few dinner and show options to make the most of your experience. You can add a dinner package to your show tickets for just $9 that includes a hot dog, chips, cookie, and a drink. If you want a meal from a delicious restaurant, you can add a $25 Harpoon Harry's meal voucher for only $20. Or, you can go out for dinner before or after you watch the show! We also have a full concession stand!
6. What restaurants are near Lumberjack Feud in Pigeon Forge?
If you want to grab a bite to eat before or after the show, there are several restaurants near our theater. Within Lumberjack Square, there are Calhoun's, Smoky Mountain Brewery, and Five Guys Burgers and Fries. Right next door, you can eat at Harpoon Harry's, or if you want delicious southern food, you should eat at Paula Deen's Family Kitchen!
7. Is audience participation for children only?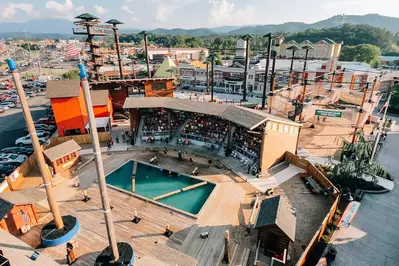 No, anyone may participate with the interactive portions of our show! Don't feel obligated to participate though. It's completely voluntary!
8. Is the theater wheelchair accessible?
Yes, the entire theater is wheelchair accessible. We want to make sure guests with disabilities feel just as welcome and enjoy our show just as much as any other guest.
9. What is the weather policy?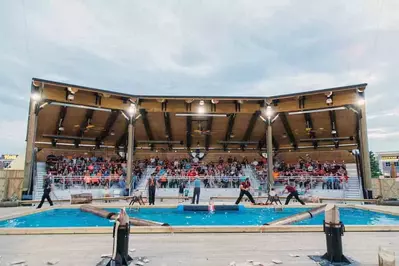 If you're afraid bad weather will make you miss the Lumberjack Feud Show, it won't! Our show still goes on, whether it's sunny, raining, or snowing. The only time we will cancel is if we are concerned for the safety of the lumberjacks and lumberjills.
We hope we answered all the questions you had about Lumberjack Feud in Pigeon Forge. Are you ready to experience our fun show and park? If you have more questions, feel free to contact us and we will be happy to help!