January 28, 2022
If you haven't eaten at Paula Deen's Family Kitchen when you've been to Pigeon Forge, you need to go the next time you're in town! You'll get delicious Southern comfort food, and you get to share it with your whole family! Here's everything you need to know about Paula Deen's Family Kitchen in Pigeon Forge:
Food is Served Family Style
Unlike many other restaurants, the food at Paula Deen's Family Kitchen is served family-style. This means you choose a certain number of foods for the whole table to share. When your food comes to the table, it's served on huge platters you pass around like you're sharing a meal with your family at home! You'll love feeling like you've eaten a home-cooked meal without having to do any of the work.
Wondering what all you can get for breakfast? Choose 3 Down Home Dishes, which include pigs in a blanket, chicken and biscuits, apple french toast, scrambled eggs, pancakes, and casserole. Then you choose 1 Breakfast Meat, which includes two kinds of bacon, ham, or sausage. Then you choose 2 Breakfast Treats for the table. These are hashbrown casserole, fried potatoes, biscuits and gravy, cheese grits, grits, or fresh fruit. Breakfast is served from 8 to 10:15 a.m.
Lunch and Dinner Menu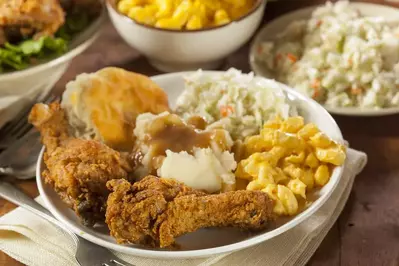 Lunch and dinner at Paula Deen's Family Kitchen shares the same menu. Choose between The Albany, which includes 2 Down Home Dishes and 4 sides, or The Savannah, which includes 3 Down Home Dishes and 4 sides. Down Home Dishes include fried chicken, pot roast, pork chops, meatloaf, spare ribs, chicken and dumplings, and fried catfish. The sides you can choose from include green beans, creamed potatoes, collard greens, yams, creamed corn, coleslaw, poppyseed salad, white rice, corn casserole, mac and cheese, black eyed peas, and broccoli casserole. Everyone also gets their choice of dessert. Choose from butter cake, banana pudding, and cobbler. Lunch is served from 11 a.m. to 4 p.m., and dinner is served from 4 to 10 p.m.
More About Paula Deen's Family Kitchen
Paula Deen's Family Kitchen offers guests recipes from Paula's cookbooks, such as Southern-Style entrees, delicious side dishes, and mouth-watering desserts in a family-style setting. Serving up breakfast, lunch, and dinner, the full-service, 300-seat dining area upstairs provides the perfect spot to enjoy a meal with family and friends while looking out over The Island Show Fountains. Visitors can also shop in the Paula Deen Store on the first floor to browse over 3,000 retail items from the First Lady of Southern Cooking, making this one of the most unique dining experiences in the Great Smoky Mountains! After all, the Deen family grew up visiting the smokies, and it's a dream to have their flagship restaurant in Pigeon Forge!
After you eat your meal at Paula Deen's Family Kitchen, head over to Paula Deen's Lumberjack Feud where you'll have a ton of fun watching the lumberjacks compete against each other in 13 events during the show. Learn more about our show before your visit to Pigeon Forge!