March 18, 2020
When the weather is warming up, you want to spend as much time outside as possible! Luckily, there are all kinds of outdoor things to do in the Smoky Mountains! From ziplining through the trees to playing at our Adventure Park, you will love all of these activities! Here are the top 5 outdoor things to do in the Smoky Mountains:
1. Adventure Park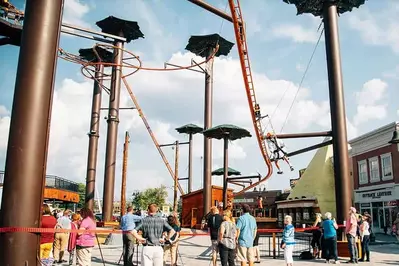 We have to include our Adventure Park in our list of outdoor things to do in the Smoky Mountains! Your kids will love the High Woodsman Challenge that includes fun obstacles. You can also try the Flying Ox, the only zipline coaster of its kind anywhere! Jump from Timber Towers for 2 exciting free fall jumps. You can even pretend to be a lumberjack when you try Logger Sports!
2. Lumberjack Show
Of course, we have to include our Lumberjack Show in this list too! Since our grandstand is open, you're still outside! Your whole group will love watching the two lumberjack families compete against each other in our 1.5 hour show. Watch them do the boom run, axe throwing, and so many more events. Your kids can even participate in an intermission experience just for them!
3. Ziplining at Climb Works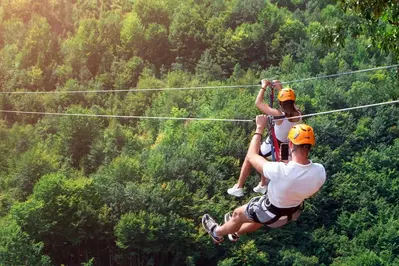 If you love adventure, you should zipline at CLIMB Works! In the Smokies, you get to choose the treetop course or the mountaintop course. No matter which course you decide to try, you'll have a blast! The treetop course has 9 ziplines, and the longest one is 900 feet. It's a single rider line, and you get to walk across sky bridges. On the mountaintop course, you can race your friends and family side by side while enjoying beautiful views of the mountains. It has 5 ziplines and it is considered easy to moderate. Want to zipline and see our show? We've teamed up with CLIMB Works to provide a package that includes both of these activities!
4. Cades Cove Riding Stables
Did you know you can go horseback riding in Cades Cove? Cades Cove Riding Stables allows people to ride horses in this popular area of the national park. You can enjoy the beauty of the Smoky Mountains on horseback as you ride through trails. Horseback riding is a great activity for people who love being outside and love animals just as much! Your whole family will have a blast riding together!
5. Hike the Trails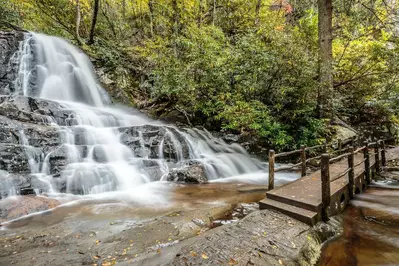 If you're wanting to spend some time outside, one of the best ways to do that is to get out on the trails! With over 850 miles of hiking trails, you have plenty to choose from! There are easy trails, moderate, and difficult. You can choose how much elevation you want to hike or even what you want to see! Want to see a waterfall? Hike to Laurel Falls! Looking for unique features along the trails? Hike to Alum Cave. No matter which trail you choose, you'll all have a blast hiking in the Smoky Mountains!
Are you ready to find some outdoor things to do in the Smoky Mountains? Plan your first activity by booking tickets to our Lumberjack Feud show!