November 02, 2022
November 26th, 2022, Lumberjack Feud is having its first-ever Christmas Tree Lighting Celebration with a special visit from Paula Deen and the Deen family. The event will be fun for the whole family with hot chocolate, cookie decorating, fresh tacos, and live performances from local bands and school teams.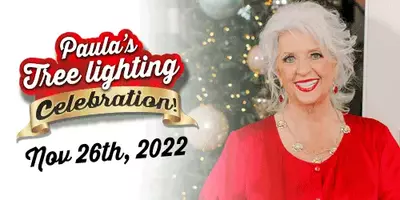 Festivities begin at 5:00 p.m. Paula Deen will light the 30-foot-tall tree at 6:45 p.m. followed by a local church's children's choirs' performance – The Lift Church. Live music by band Misty River will be played throughout the evening. Local marching bands, dance teams, and a choir from Pigeon Forge High School and Sevier County High School will also perform. The host for the evening will be Opie Joe from 100.3 The Wolf.
Santa Claus will be present for free photos in front of the tree and around Lumberjack Square.
The Lumberjack Feud Show will be at 5:00 & 8:00 p.m. and the 8:00 p.m. show will be attended by Paula Deen and family. To purchase tickets to Lumberjack Feud click this link or give them a call at (865) 366-3330.
About Lumberjack Feud
Paula Deen's Lumberjack Feud Show and Adventure Park is a two-in-one attraction in the heart of Pigeon Forge, TN. The show is more like a good ole-fashioned competition between two logging families competing in 13 lumberjack events such as the speed climb, springboard chop, and boom run. The lumberjacks are world-class athletes, and their skills will amaze you.
After the show, see if you've got what it takes to be a lumberjack at the Adventure Park and compete in those events yourself. There are 4 unique ways to play, including a thrilling ride on the world's first zipline coaster – The Flying Ox.