September 07, 2021
Whether you're traveling to the Smokies in the heat of summer or visiting during the magical Christmas season, our show in Pigeon Forge will be open! Rain or shine, we're open daily all year. Enjoy the warmth of one of our spring and summer shows, or our heated grandstands in the fall and winter and watch the Dawson's and McGraw's face off against one another! Here is why our Pigeon Forge show is great all year-round:
1. Climate-Controlled Grandstands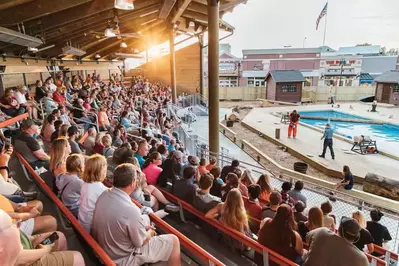 With our state of the art, climate-controlled grandstands, you'll get to enjoy our outdoor show regardless of if it's sunny and 75 degrees or snowing. Our large fans will keep you cool and our heaters will help you fight against those Smoky Mountains winters. Incorporating the great outdoors is pivotal to our lumberjack show, and we want you to enjoy every minute of it, despite the weather. We guarantee you'll be comfortable and will have a blast watching our lumberjacks and lumberjills compete all throughout the show!
2. Seasonal Events
Even if you've already seen our show once, we recommend you come back again to any of our seasonal shows for a whole new experience. If you're visiting the Smokies on your winter holiday, we suggest coming to see our fantastic Christmas show! Our entire grandstand will be adorned with holiday decor, as well as the stage and Adventure Park. The stage is decked out with Christmas trees and lights, creating a one-of-a-kind holiday experience for you and your family. Head to the concession stand and get a big cup of hot chocolate to sip on throughout our Pigeon Forge show.
3. Our Adventure Park is Open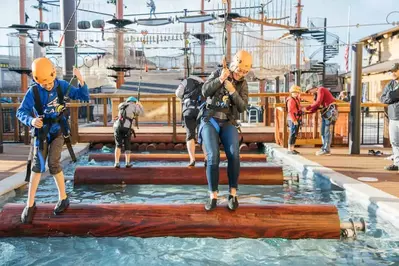 Regardless of the time of year, you'll still be able to try out a few lumberjack events for yourself. Our Adventure Park gives you the opportunity to become a certified lumberjack or lumberjill and test your skills on Loggersports like the Boom Run, Log Roll and Speed Climb. If you're bringing the kids, let them try out the High Woodsman Challenge, consisting of multiple levels of lumberjack-themed obstacles. Don't forget to check out the Flying Ox and Timber Towers!
4. Our Tough Lumberjacks
At our Pigeon Forge show, we guarantee real lumberjacks and real competition, every time. Our lumberjacks are not paid actors, but award-winning, nationally recognized athletes who have worked hard to master their sport. We have national and world champions in the Speed Climb, Boom Run, Underhand Chop and more. Our Jacks are from all over the country and can handle any type of weather. Sleet or sunshine, our boys will be out there ready to compete! All they need is some support from their side of the audience, so make sure you represent your lumberjack loudly and proudly!
Now that you know more about why our Pigeon Forge show is a great vacation activity all year-round, you can begin ordering your tickets for the next time you'll be visiting the Smokies area. Do you have any questions or concerns regarding tickets or our show? Give us a call and we'd be more than happy to help you in whatever way we can!