March 23, 2021
If you are looking for a Pigeon Forge show that is fun for the whole family, you won't want to miss a performance of our thrilling lumberjack show! This family-friendly show offers 1.5 hours of action-packed entertainment as our talented lumberjacks compete in a variety of jaw-dropping events! Here are the top 4 reasons why our Pigeon Forge show offers the best family entertainment in the Smokies:
1. Kids Love the Lumberjack Action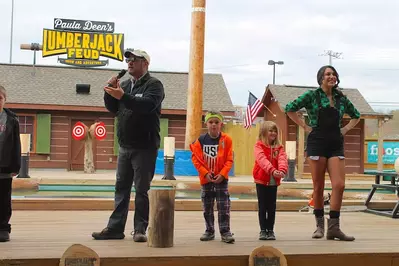 Whether you have toddlers, grade school children, or teens, all kids love the exciting lumberjack action at our show! If you have kids that moan about being dragged to a boring show, just wait until they see the competition unfold on our stage! Our show features real athletes who compete in a series of intense challenges, including log-rolling, speed-climbing, and axe-throwing! This is no magic show as the axes and chainsaws are 100 percent real! As if this all doesn't sound cool enough, there is even a special children's event during the intermission!
2. Excellent Entertainment Value
Our Pigeon Forge show offers an excellent entertainment value for your family as the tickets are incredibly reasonable and there are reduced rates for children ages 4 to 11. If you have any kids who are 3 and under, they are admitted to our show for free. If you also want to enjoy our incredible Lumberjack Adventure Park, the best value is our combo package that includes both a show ticket and Adventure Park admission! The Adventure Park is your chance to become a lumberjack and experience some of your own lumberjack events!
3. Good Clean Fun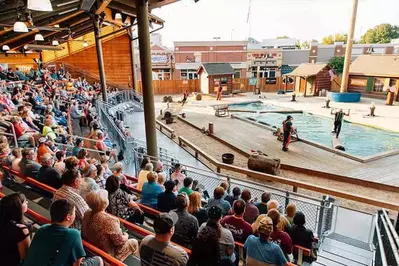 You can count on good clean fun at our Pigeon Forge show, so no need to worry about any offensive comedy or material. You can bring everyone from young children to grandparents to our show to cheer on the lumberjacks! Our friendly staff looks forward to welcoming you to our climate-controlled grandstand and providing 90 minutes of clean family entertainment. This is a show that is sure to be a highlight of your trip to the Smokies and something your family will still be talking about long after your vacation is over!
4. Families Are Part of the Experience
When you come to our lumberjack show in Pigeon Forge, your family actually becomes part of the experience! You will have the chance to join the competitive spirit and cheer on your Dawson or McGraw lumberjack family. Feel free to clap along, hoot, and holler as world class lumberjacks representing each of the families compete in 13 fast paced tests of skill. As you can see, this is much more thrilling than just being an audience member watching performers sing or dance on a stage! Come find out for yourself why so many families return year after year to see our lumberjacks in action!
Check out all of the information about our Pigeon Forge show today to plan your visit and experience the best family entertainment in the Smokies! We look forward to seeing your family soon!