June 08, 2023
Our Lumberjack Feud show is unlike any other competition-style show you've ever seen! Open all year round, rain or shine, our family-friendly atmosphere is the perfect place for entertainment, comedy, and yummy Southern food. Here are 4 things you may not know about our Pigeon Forge dinner show:
We serve supper.
That's right – our Lumberjack Feud now is now a supper show! We call dinner "supper" in this neck of the woods, and each full-price admission ticket includes a full camp supper! Now on the menu is a barbeque sandwich, coleslaw, baked beans, a drink, and a cookie. That's what we call a genuine Southern specialty! Plus, we still have our concession stand with popcorn and other snacks, so it's impossible to go hungry at our Pigeon Forge dinner show!
Our facility is accessible.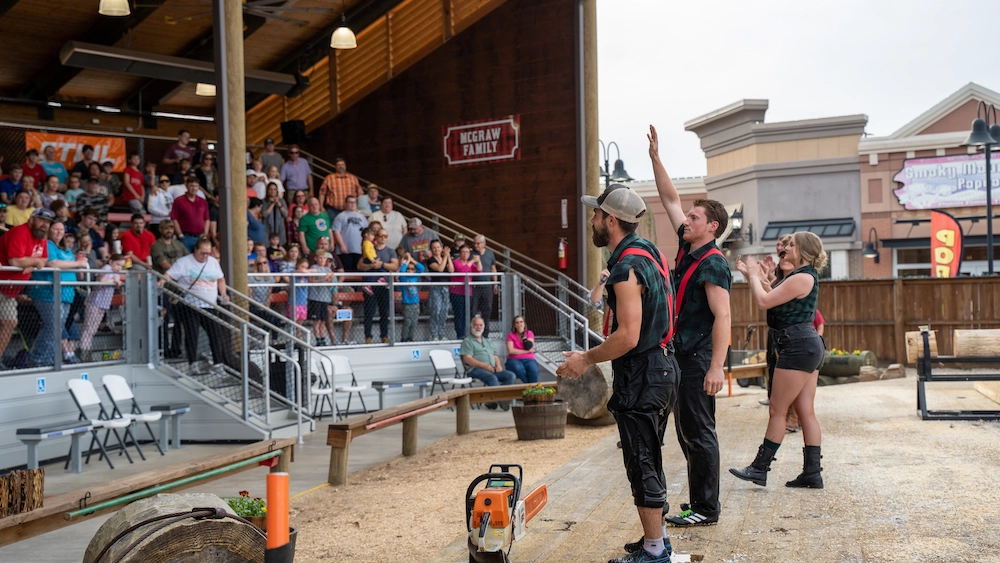 We want to make sure everyone can enjoy our show, so our entire facility is wheelchair accessible and accommodating to those with disabilities and special needs. The outdoor theater and grandstands have plenty of space on the floor for wheelchairs with great visibility for all of the action. We guarantee there's not a bad seat in the entire place! The comfort and safety of our guests will always be our top priority, and our friendly staff will be glad to help you however they can to ensure the best experience for you and your family.
We offer a veteran & first responder discount.
All veterans and first responders receive a 25% discount off their entire purchase at our Pigeon Forge dinner show! This is just a small way we can show our appreciation for those who serve and have served our community and country. We also offer discounted group rates for groups of 15 people or more. It's a great value for churches, schools, large families, and other groups!
Our show is interactive.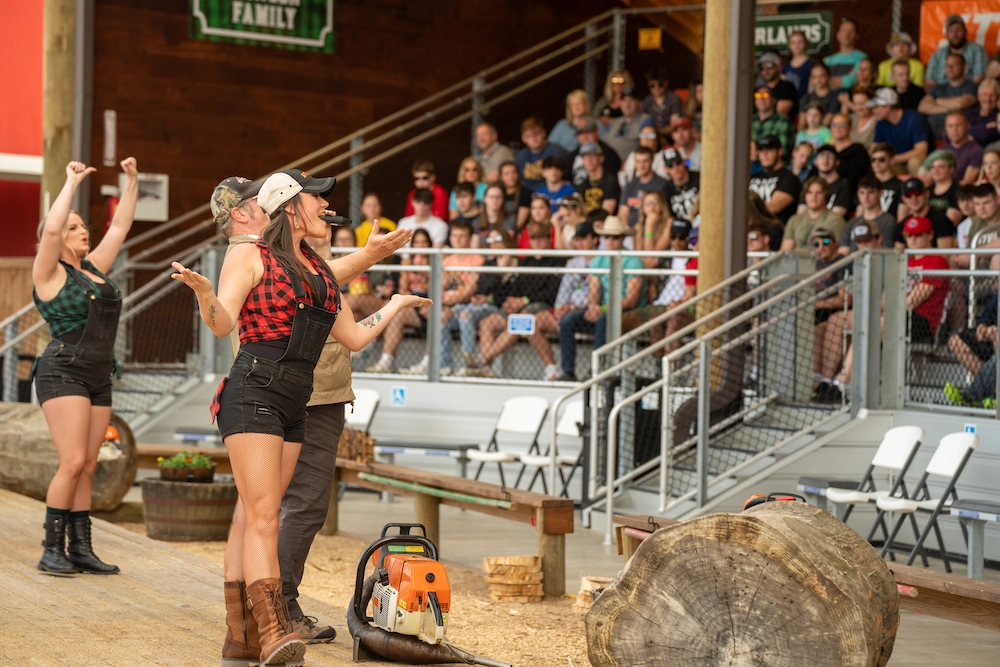 Both kids and adults can get involved in our show! First thing you'll pick a side to cheer for – either the Dawson family or the McGraw family – and that makes you an official member of the feuding family! Your job is to support and cheer on the lumberjacks and lumberjills as they compete. You'll be laughing along at the families' antics and jokes and gasping at the jaw-dropping stunts during the entire 90 minutes. The best part is during intermission when the kids can go down and learn some of the lumberjack's skills with hands-on help from the performers themselves! But the fun doesn't stop there. We highly recommend meeting our talented lumberjacks and lumberjills after the show! You can chat about their skills, congratulate the winning family, and take lots of photos. It's just one of the things about our live-action show that sets us apart!
Are you ready for a fun-filled adventure at our Pigeon Forge dinner show? Then you should check out our Show and Adventure Park Package for twice the fun and incredible savings! We hope you'll visit us soon!