July 14, 2023
There's no shortage of entertainment in the Smoky Mountains, from thrilling attractions to dining and shopping, but Paula Deen's Lumberjack Feud is a highlight of many family vacations. They can't get enough of our exciting atmosphere and interactive show; it makes them want to return over and over again. We stand out as one of the best supper shows in Pigeon Forge – keep reading to find out why!
It's the only supper show in America.
Around here, we call dinner "supper" and that makes us the only supper show in America! During the show, you can enjoy a camp-style supper, which includes a hefty BBQ sandwich, smoky baked beans, sweet and tangy coleslaw, a drink, and a cookie. Southern cooking is our specialty, so you'll definitely want to experience this delicious meal for yourself! Even those with big appetites find our supper portion just right, but we also have popcorn and other items available at the concession stand if you still want a snack.
It features the wildest feud in town.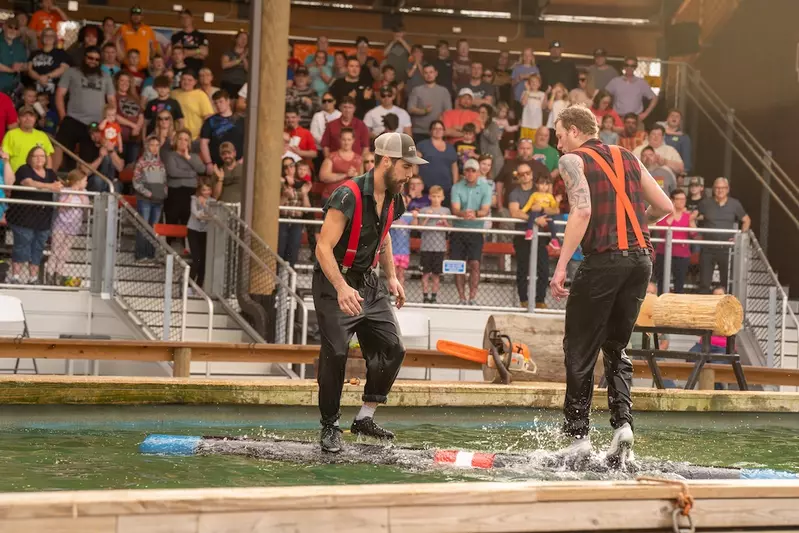 The feuding Dawson and McGraw families aren't messing around, and you get to be part of the action too! Pick a side and get ready to cheer them on as they compete in loggersports and other feats of strength. Our Pigeon Forge show encourages crowd interaction, so get ready to stand up and support the families by cheering as loud as you can. There's nothing quite like an old-fashioned feud, and our outdoor venue and crazy stunts take our show to the next level!
It showcases jaw-dropping skills you've never seen before.
Speaking of crazy stunts, you won't believe your eyes as the lumberjacks and lumberjills show off their skills! Of all the shows in Pigeon Forge, we're unique in featuring performers with tremendous axe, chainsaw, and loggersport skills – we guarantee you've seen nothing like it before! But it gets even better! Kids can interact on stage as the lumberjacks help them try their hand at what it takes to be a lumberjack, and there's even a meet and greet after the show at no extra cost. Your kiddo will definitely want a photo or two with their favorite lumberjack or lumberjill, plus it's a lasting memory of a fantastic day in Pigeon Forge.
It's family-friendly and affordable.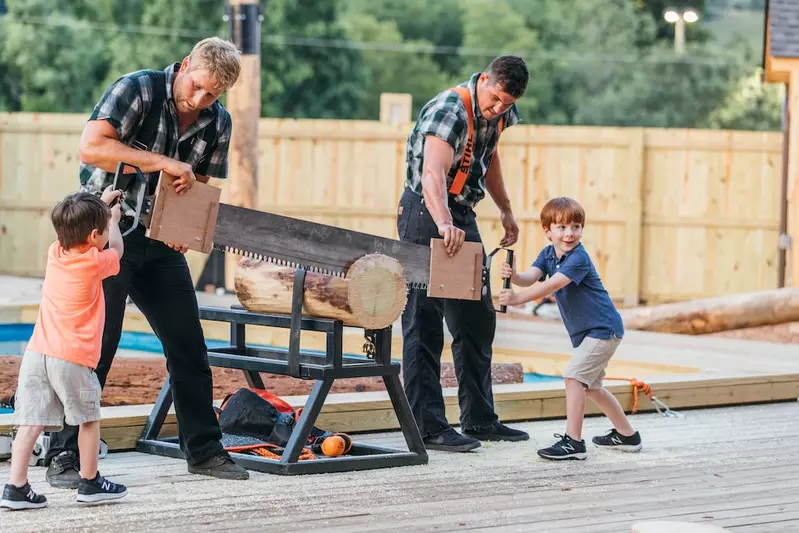 We're proud to be one of the most family-friendly and affordable shows in Pigeon Forge. The comedy and dialogue are appropriate for all ages! We understand that families need to stick to a budget, so children 3 years old and under are free and welcome to sit on their parent's lap during the show. Also, take advantage of our group, military, and first responder discounts! Another way to save is by purchasing a combo ticket to both our Supper Show and Adventure Park.
Now that you know why we have one of the best supper shows in Pigeon Forge, learn more about what to expect at Paula Deen's Lumberjack Feud. We hope you'll make plans to visit us during your next Smoky Mountain vacation!