March 07, 2023
When you visit Paula Deen's Lumberjack Feud, you have the opportunity to test out your own lumberjack skills at our thrilling Adventure Park! This fun theme park has four unique sections that feature fun for all ages, including some of the same events that you will see in our show. One of the areas of the Adventure Park is the Loggersports section, which will test out your balance, speed, bravery, and athleticism! Here are 4 things to know about the Loggersports at our Pigeon Forge Adventure Park:
1. Three Incredible Events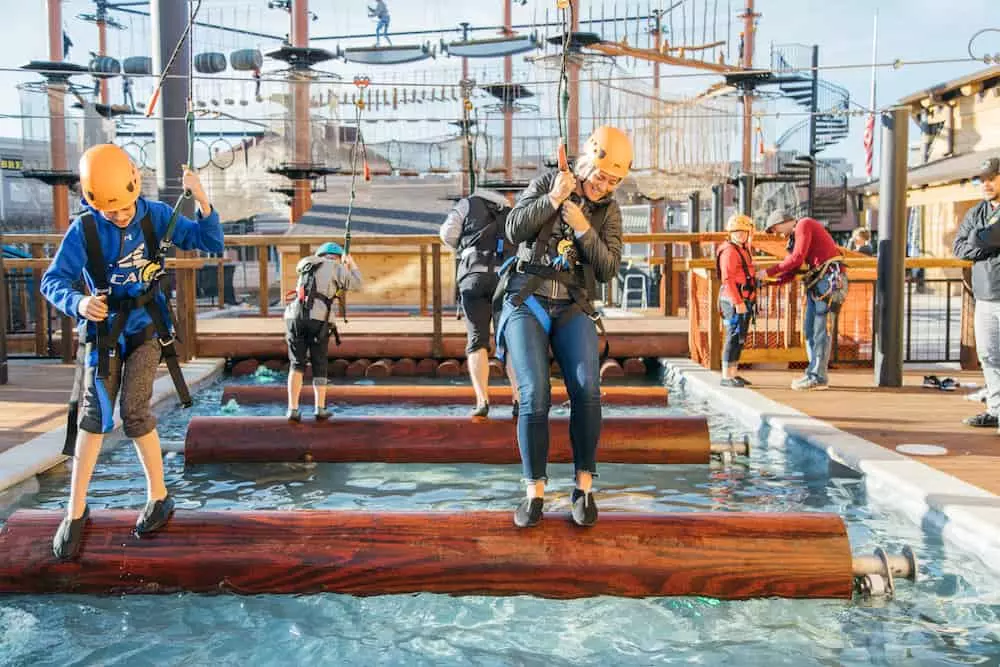 When you enter the Loggersports portion of our Adventure Park, you are in for an amazing time! This section features three unique events that you will want to try out. The Boom Run will test out your balance and agility as you try to walk across a log that is floating in the water. Next, you can challenge one of your friends or family members on the Log Roll, where you have to maintain your balance as a log in the water rolls every which way! Finally, the Speed Climb will put your body to the test as you attempt to climb to the top of one of the poles.
2. Same Events Seen in Our Show
All three activities in the Loggersports portion of our Pigeon Forge Adventure Park can also be seen in our thrilling show. During the performance, you can watch our lumberjacks show off their skills in these events, plus many others. It is truly amazing how easy the lumberjacks make these difficult challenges look. Once you find yourselves in their shoes, you will quickly discover it's not as easy as it looks. However, once you get the hang of it, you will be able to call yourself a true Smoky Mountain lumberjack. If you want to save some money, be sure to check out our package deals to experience both our show and Adventure Park.
3. You Won't Get Soaked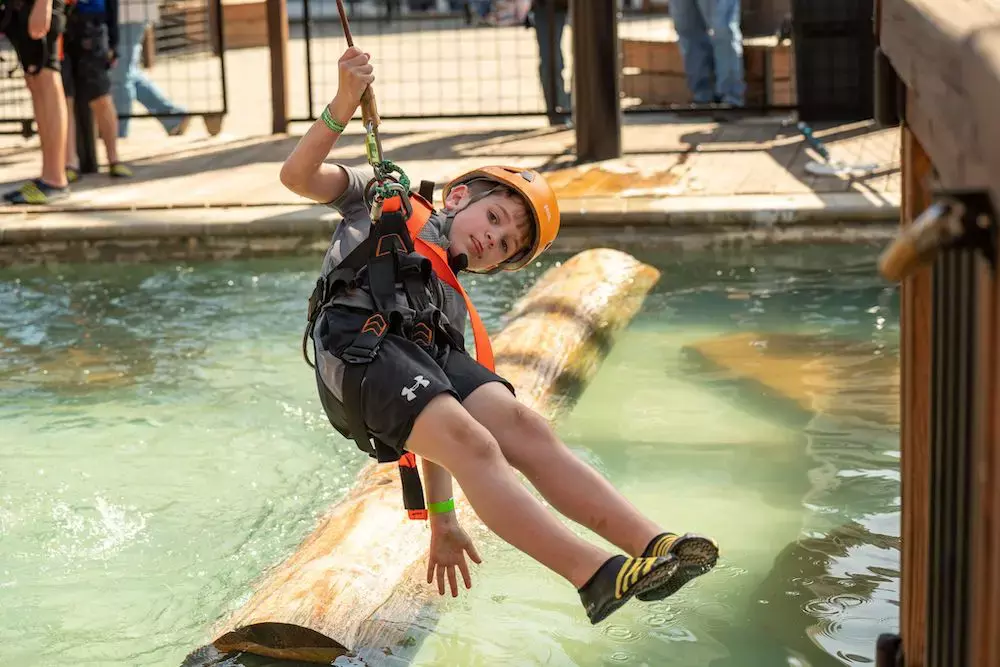 Unlike the lumberjacks, you aren't in danger of falling into the water when you visit our Adventure Park. When you take part in the events in the pool, you will be safely harnessed so you won't get soaked if you slip off. This means that you don't need to wear a bathing suit or quick-drying clothes when you visit us in Pigeon Forge. However, we do ask that you wear close-toed shoes to take part in any of the activities at our Adventure Park. You can also visit our park year-round, so there is always fun waiting for you at Paula Deen's Lumberjack Feud.
4. More Fun Activities
After you explore the Loggersports at our Adventure Park, be sure to try out all the other activities that we have available. On the Flying Ox, you can take part in a once-in-a-lifetime experience, as this is the world's first zipline roller coaster! The High Woodsman Challenge is a lumberjack-themed ropes course that is full of obstacles for those ages 5 and up. Finally, the Timber Towers consist of four 80-foot towers where you can take a leap of faith that is sure to make your stomach drop!
Are you ready to experience all the fun at our Pigeon Forge Adventure Park? Be sure to learn more about Lumberjack Feud as you make your plans for your next Smoky Mountain vacation. We look forward to seeing you soon!