November 13, 2023
A delicious meal, side-splitting laughter, and exciting entertainment– Paula Deen's Lumberjack Feud has it all. But what about a Christmas show? We have that too! In fact, our feuding families put on a holiday spectacular that takes our traditional lumberjack competition to a whole new level. Take a look at what makes us the best Christmas show in Pigeon Forge:
1. Photos With Santa
Christmas in Pigeon Forge is not complete without seeing Santa Claus! Before our 5 PM supper show, you can visit with Santa next to the grand Christmas tree in the middle of the show stage from 4:15 to 4:50 PM. It is a free experience included with admission, so just be sure to arrive early. That way, you will have plenty of time for photos before you get your food and the show begins. You and your family will love the pre-show festivities, as Santa adds an extra dose of holiday cheer and fun to the overall experience!
2. Thrilling Competition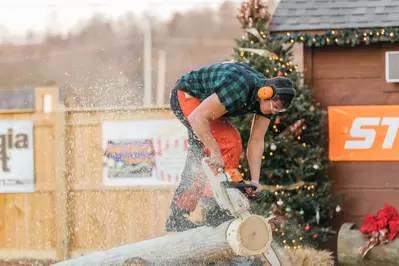 As with our regular year-round lumberjack show in Pigeon Forge, the stunts and competition you will watch between the McGraws and Dawsons will make your jaw drop! Logger sports such as the boom run, log roll, and speed climb are just one small part of the action. There are 13 separate events, including axe and chainsaw action designed to impress and amaze! In addition to the family-friendly comedy and hilarious antics of the family members, our show provides special memories that you will never forget.
3. Comfortable Outdoor Theater
We are Pigeon Forge's only outdoor show and proudly operate all year long. Our climate-controlled grandstands were built by our very own lumberjacks, and we also have handicap-accessible spots so that everyone has the best seat in the house! Plus, the beautiful, twinkling lights and giant Christmas tree make a beautiful and cheerful backdrop, just another reason why we have the best Christmas show in Pigeon Forge.
4. Audience Participation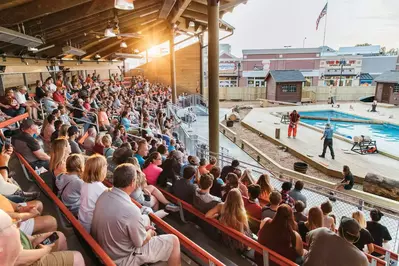 The talented and friendly lumberjacks and lumberjills don't just perform for your entertainment, but they want you to join in on the fun too! Get to your feet if you are able and cheer them on as they compete. There is even a time for the kids to interact with the lumberjacks and test their skills. Our Christmas show in Pigeon Forge is entertaining for everyone, whether you're a young child, teen, or adult. It is also a great attraction to bring a large group, from big family and friend groups to church and school groups.
5. Special Holiday Meal
We have a holiday-themed meal instead of our traditional BBQ feast during the Christmas season that we know you will love. You can enjoy a thick turkey sandwich, dressing, sweet potatoes, cranberry sauce, and dessert. Our concession stand also offers popcorn and snacks, as well as piping hot chocolate. No one will go hungry at our show!
Get your tickets for our supper show before the end of the season! We hope you will come and experience for yourself why we have the best Christmas show in Pigeon Forge. We can't wait to entertain you!