February 02, 2022
When you're in Pigeon Forge to see our Lumberjack show, add dinner to your experience to make your night better! At our lumberjack show in Pigeon Forge, you have a few options of what you can do when it comes to food. We want to share these ways to eat while you enjoy our entertaining show. Here are some ways you can enjoy a dinner and show experience when you visit our lumberjack show in Pigeon Forge:
1. Our Dinner With the Show Package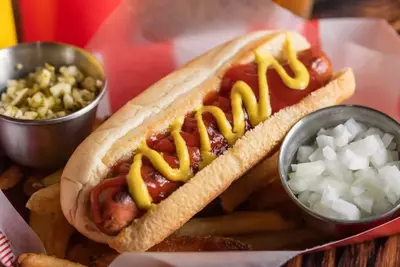 We have an available option when you are purchasing tickets to our show to add a meal to enjoy while you watch. We've always had the option to watch our show and enjoy spending time at our Adventure Park, but we added another package to make the most of your experience. When you are checking out, you will find an option with tickets to our lumberjack show in Pigeon Forge, and once you choose your day and time, the add-on section will pop up, and you can add the number of dinners you want. Our dinner includes hot dogs, chips, a fountain drink, and a cookie. It's a great meal to have while you watch our exciting show.
2. Dinner & Show Experience
If you want to have a great family date night experience, you should take advantage of our Dinner & Show Experience! Before or after the show, you can have an amazing dinner at Harpoon Harry's conveniently located at Lumberjack Square! They have all kinds of seafood options, from shrimp to crab, as well as sushi. Don't like seafood? This restaurant also has steak, hamburgers, chicken, pasta, and other options. You'll also find all kinds of drink options too. With our Dinner & Show Experience, you will get a $25 meal certificate for Harpoon Harry's with each ticket purchased to use before or after you watch our amazing show!
3. Purchase Food from a Nearby Restaurant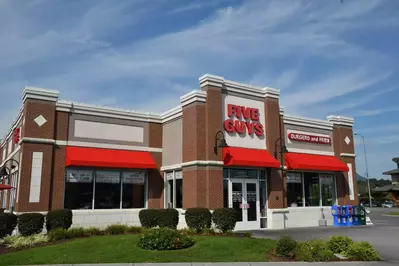 Don't want to prepare your own food? Our location in Lumberjack Square makes it easy to grab a bite to eat and bring with you. Head over to Calhoun's and order a family feed pack full of delicious barbeque and southern sides. Choose from a couple of protein options, barbeque baked beans, and coleslaw. Five Guys is another great option because you can order hamburgers and french fries to go and bring it with you! They even have vegetarian options if you don't want a burger. Smoky Mountain Brewery is another great option if you want to bring food with you!
More About Our Lumberjack Show in Pigeon Forge
Food is just a small part of the experience at Lumberjack Feud. You'll love watching the Dawsons and McGraws compete in axe throwing, log rolling, and speed climbing. There are lumberjacks and lumberjills that compete against each other in both families. Watching the show will have you on the edge of your seat throughout the entire show. During intermission, your kids can participate in a special event, and it may be their favorite part of their vacation! If you'd rather eat before or after the show, be sure to visit Paula Deen's Family Kitchen and enjoy an all-you-can-eat meal of all your favorites, served family-style. Learn more about Paula Deen's restaurant before you go!
Ready to reserve a spot for your next trip? Book tickets for our lumberjack show in Pigeon Forge now!