October 10, 2023
There are a great many reasons to choose Pigeon Forge as a family vacation destination, from fun attractions to the natural beauty of the Smoky Mountains. Another exciting activity everyone can enjoy is dinner and a show! At Paula Deen's Lumberjack Feud, we take you on a wild ride of laughter, stunts, and competition, plus a hearty supper to eat as you watch! Take a look at some of the top things families will enjoy at our lumberjack show in Pigeon Forge:
1. Delicious Southern Food
Dinner shows are popular in the area, but here we call it supper, making our lumberjack feud the very first supper show in Pigeon Forge! Our BBQ camp supper includes a hearty barbeque sandwich, coleslaw, baked beans, a drink, and a cookie for dessert. Have an extra big appetite? We also serve snacks and freshly popped popcorn at our concession stand.
2. Outdoor Entertainment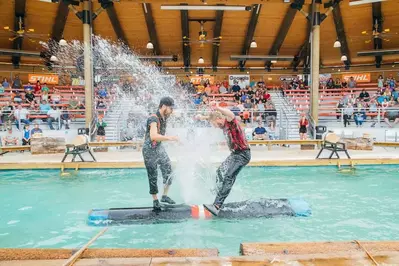 Being surrounded by the breathtaking scenery of the Smokies is part of what makes Pigeon Forge so special, so why not spend as much time as possible breathing in the fresh mountain air? Our supper show runs rain or shine all year long, and guests are safely able to enjoy the experience in our climate-controlled grandstands. Accommodating all guests is very important to us, so we have handicapped and accessible areas so everyone can have the best views of our lumberjack show in Pigeon Forge!
3. Talented Performers
You will love watching the Dawsons and McGraws compete in axe throwing, log rolling, speed climbing, and many more high-energy stunts and fetes of strength. There are lumberjacks and lumberjills that compete against each other in both families, and you can also expect hilarious, family-friendly comedy mixed in with the two families' rivalry and antics. Kids and adults alike will be on the edge of their seats throughout the entire show!
4. Interactive Experience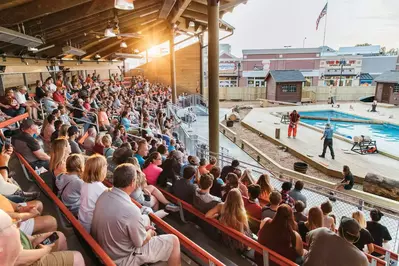 At Lumberjack Feud, you can expect to not just be entertained but also be a participant in the action! Pick a side to cheer for, and get ready to stand up and show support for your feuding family. During intermission, your kids can participate in a special event with the help of the lumberjacks, and it may be their favorite part of their vacation!
5. Affordable Prices & Discounts
Our Pigeon Forge supper show makes it possible to have all of the fun without spending it all! You receive a fantastic entertainment value for the price in addition to a delicious Southern-style meal. Children 3 years old and under are free, and we also offer 25% discounts for military members, veterans, and first responders. Groups are more than welcome at Lumberjack Feud, and discounted rates for an advanced reservation are available for groups with 15 people or more.
Learn more about our supper show and get your tickets online! We look forward to welcoming you to the Smoky Mountains and hope to see you at our lumberjack show in Pigeon Forge very soon!