February 24, 2021
If you are looking for some exciting entertainment during your group vacation to the Smokies, come on out to our thrilling lumberjack show in Pigeon Forge! This is your chance to see world class lumberjacks in action as they compete in a variety of jaw dropping events you will be talking about long after your vacation is over! Whether you are planning a church retreat, scout trip, or family reunion to the Smoky Mountains, be sure to put our show on the top of your list! Here are the top 5 reasons why groups love our show in Pigeon Forge TN:
1. Fun for All Ages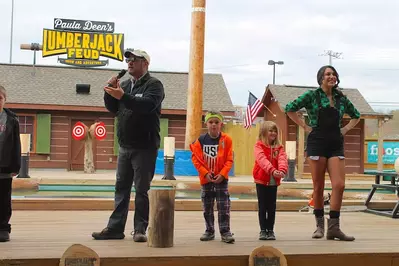 We know it can be tricky finding something that everyone in your group will enjoy, but you'll be glad to know our show in Pigeon Forge TN is a blast for all ages! Everyone from kids to grandparents will get into the spirit as they cheer on the lumberjacks during events such as the Boom Run, Axe Throw, Spring Board Chop, and Log Roll! If you do have children in your group, they will be delighted to know that there is a special kids event during the intermission where they can interact with the lumberjacks!
2. Climate Controlled Grandstand
There is nothing more disappointing than planning a fun adventure with your group, only to have it spoiled by bad weather. When you come out to see our lumberjacks perform, you never have to worry about the weather conditions as our outdoor grandstand is completely climate controlled for your comfort. This means that the show goes on in the rain, sleet, or even snow. While the lumberjacks are exposed to the weather on stage, these hearty performers can handle any conditions and it might even make the events more challenging.
3. Excellent Group Rates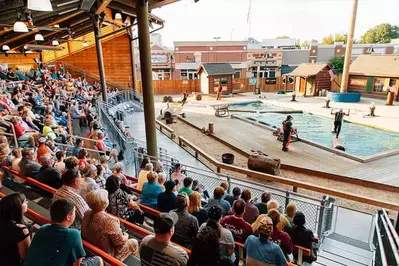 Our show in Pigeon Forge TN offers one of the best entertainment values in the Smokies, so it is no wonder why it has quickly become the hottest ticket in town! If you are planning on attending a performance with at least 15 people, you can receive an even better deal when making an advance reservation and one person pre-pays for the entire group. This leaves more money to spend on other areas of your vacation, including group lodging, meals, attraction tickets, and more.
4. Convenient Package Options
Make your group visit even more exciting by taking advantage of our convenient package options! We know that many of our guests also plan to visit our thrilling Adventure Park, so save money by booking the show and Adventure Park together! If you are unfamiliar with this incredible park, it is an interactive experience where you can bring out your inner lumberjack. Some of the activities include the High Woodsman Challenge ropes course, Timber Towers freefall jumps, and the Flying Ox zipline roller coaster. Another great package option is the Dinner and Show Experience Package. Enjoy an amazing dinner experience before or after the show at Harpoon Harry's, the best place to get all kinds of delicious seafood!
5. Close to Tempting Meal Options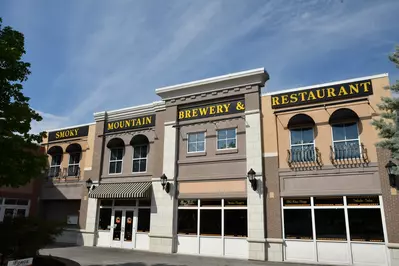 Stick around in Lumberjack Square before or after our show in Pigeon Forge TN for a delicious meal! There are 4 great restaurants just outside our grandstand, including Harpoon Harry's Crabhouse, Five Guys, Smoky Mountain Brewery, and Calhoun's. You can even enjoy discounted dinner options at these restaurants if you contact our box office. We encourage you to bring outside food and drink to the show, so feel free to chow down during the performance!
Check out all of the information about bringing a group to our show in Pigeon Forge TN today. We look forward to welcoming your group to our amazing lumberjack show!