August 13, 2019
When you visit Lumberjack Square in Pigeon Forge, you'll find there are plenty of fun things to do for everyone, including our popular show! No matter what you enjoy, you'll find it in this entertainment complex. Check out these top 4 fun things you'll want to do in Lumberjack Square:
1. Watch Our Show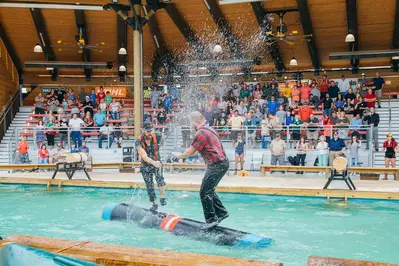 You can't come to Lumberjack Square without seeing our Lumberjack Feud show! Watch two feuding lumberjack families compete against each other to see who is the best at over 13 events! You'll watch them do the Log Roll, the Boom Run, chop wood, throw axes, and so much more. Not only do you get to watch, you can also participate! We have audience participation, and the kids get to take part in a special intermission event. Our show takes place in an outdoor arena, and we run no matter if it's raining or the sun is shining. Even though we don't offer food, you are more than welcome to bring your own! Don't miss out on this incredible show!
2. Play in the Adventure Park
When you come to see our show, you also don't want to miss the chance to play in our Adventure Park! In the High Woodsman Challenge, you'll meet all kinds of obstacles you get to tackle on this high ropes course. Balance as you walk across wooden planks, hop between plastic bubbles, and brave heights along this attraction. At Loggersports, you get to see what it's like to be a lumberjack. Try to stay on the log as you balance in the water, and you'll also get to try the Boom Run. At Timber Towers, you get to free fall and see what it feels like to fall from 80 feet in the air! Kids and adults will have fun at the Adventure Park!
3. See a Movie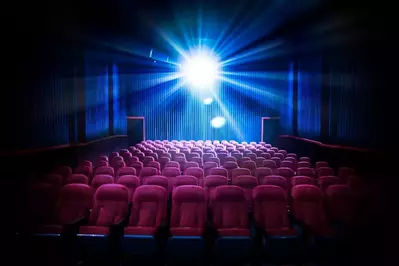 If you love going to the movies, you have to go to The Forge Cinemas in Lumberjack Square. Every movie, no matter the time of day, is $5, making it a cheap, fun activity for everyone! All the theaters have stadium seating and digital surround sound for the optimum movie experience. You'll find every movie snack you love, from popcorn to candy and all your favorite drinks. Everyone loves going to the movies!
4. Grab a Bite
You have plenty of choices when it comes to where to eat at Lumberjack Square. Looking for something casual? Five Guys serves burgers and fries, which is perfect for everyone! You can choose what toppings you want on your burger, from pickles to jalapenos. In the mood for something a little nicer? Head to Calhoun's. You'll find all your barbeque favorites, from baby back ribs to pulled pork. Calhoun's has a wide variety of food to choose from. If you want to go somewhere that's in between, head to Smoky Mountain Brewery. They have sandwiches, burgers, pizzas, and regular entrees. Lumberjack Square has a variety of food options! You can even grab some to-go to enjoy while you watch our show.
There are so many fun things you can do when you visit Lumberjack Square. Don't wait any longer to visit — book your tickets for our Adventure Park and Show!