May 12, 2021
When you visit us at Lumberjack Feud, you're in for the rowdiest, fun-filled show in the Smoky Mountains, action-packed from start to finish! All of our lumberjacks are nationally recognized in these various events and promise to put on an impressive show for all of you. Here are the top 6 lumberjack events at our Pigeon Forge show:
1. Springboard Chop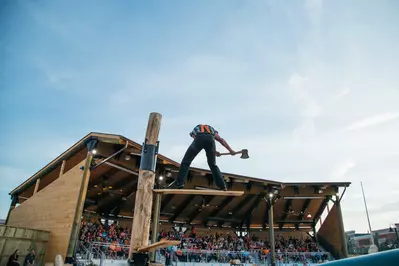 The Springboard Chop is the most difficult chopping event in Timbersports, because it requires strength, speed, balance, and precision accuracy in order for the lumberjacks to reach the top. They must place their springboards into two notches in order to chop the 10" chopping block. The lumberjacks must complete the chop from both sides of the block. Turning to the back side of the block is the most difficult part because the lumberjack must chop with his off hand. The first lumberjack to complete this event wins and takes home a Lumberjack Cookie to their family.
2. Log Roll
Your lumberjacks may get a little wet at this event! The Log Roll is a fan-favorite event where you can cheer on your lumberjack as they go head-to-head competing to knock their competitor into the water! Our lumberjacks can sprint frontwards and backwards, kick up water, and use a variety of other unique techniques to knock their opponent off the log. As long as you don't touch your opponent, any tactic is fair game, so guests are in for a treat with this event at our Pigeon Forge show!
3. Speed Climb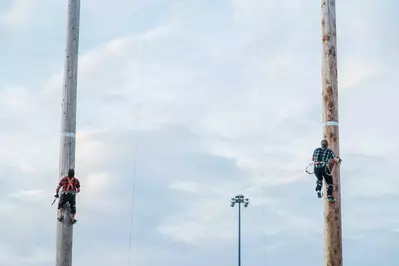 Three, two, one, "Go!" Two lumberjacks will use traditional climbing spurs and a steel cored hemp rope to scale the 60-foot twin spar poles. At the starting signal, the lumberjacks must have one foot in the climbing pole and the other on the crash pad. The first lumberjack to reach the top and then make their way back down, touching the pole every 20 feet on their descent, is crowned the winner!
4. Double Buck
In this team event, your family's lumberjacks will have to work together to pull a 6-foot racing saw through matched saw wood. When it comes to the Double Buck, we can't forget our beautiful lumberjills! During the Jack and Jill Double Buck, one lumberjack and one lumberjill from your family will use the same saw and compete for your family logging camp!
5. Axe Throw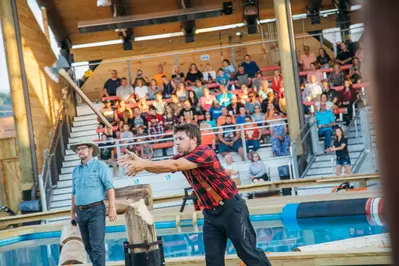 You can't come to a lumberjack show and not expect to see some axes thrown! Both our lumberjacks and lumberjills partake in the Axe Throw. In order to earn points for their family, the
competitors must throw their axe as close to the bullseye on a target as possible! After everyone has thrown their axes, we tally up the points to see which team wins. Points range from 1 to 5 depending on how close the axe lands to the center!
6. Boom Run
The Boom Run is one of the best events at our Pigeon Forge show! The lumberjacks have to brave some choppy water in order to stay dry. We line up 4 logs down the center of our pond and see which lumberjack can make it across without falling. It's not as easy as it may look! These slippery logs roll and bounce as they're splashed with water. If the lumberjacks aren't quick, they'll find themselves soaking in their flannels!
If you're visiting the Smokies soon, make sure you swing by our Pigeon Forge show and watch our lumberjacks and lumberjills compete against each other in these high-stakes, entertaining events. Would your family love to watch these events? Learn more about our show and start planning your Smoky Mountain vacation today!