July 11, 2022
At Paula Deen's Lumberjack Feud, we offer two fun ways for your family to enjoy the action. We have an hour and a half show where you can watch real lumberjacks compete in a variety of challenges, and then you can put your skills to the test in our thrilling Adventure Park! While both of these events can be purchased separately, there are a few benefits of experiencing them together. Here are 4 reasons to take advantage of our Pigeon Forge show and Adventure Park package deal:
1. Amazing Savings
When you book our show and Adventure Park together, you will receive a special discount that will help you save some money! By booking the two events together, you can save between $10 and $15 per person. With the extra savings, you can purchase an amazing souvenir from our gift shop or visit one of the other amazing stores located throughout Lumberjack Square. Not only will you have more fun taking in the entire Lumberjack Feud experience, but you can save some cash in the process!
2. Watch the Professionals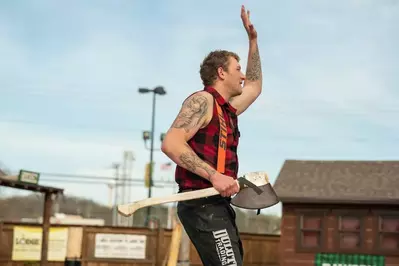 Before heading over to test out your lumberjack skills, you can let the professionals show you how it's done. The neat thing about our Adventure Park is that we take activities that are straight out of the show, so you will get a better idea of how to master the challenges. If you would prefer to tackle the Adventure Park first, our show is a great way to sit back and relax afterwards. Plus, you will have a greater appreciation for how easy our lumberjacks make the challenges look!
3. Twice the Fun
While both our Pigeon Forge show and Adventure Park are unique experiences that your family will love, you will have double the fun when you take advantage of the package deal! Your group will have a blast cheering on the Dawson and McGraw families as they battle it out through an array of thrilling competitions. After each challenge, be sure to cheer loud if your family wins so you can take home one of the coveted Lumberjack Cookies. In the Adventure Park, you can take on all four sections of our exciting attraction, including the Flying Ox, High Woodsmen Challenge, Loggersports, and Timber Towers. Spending the entire day with us is sure to be the highlight of your Smoky Mountain vacation.
4. Something for Everyone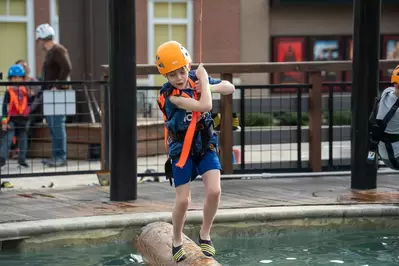 When your family takes part in both our show and Adventure Park, we guarantee everyone will find something they love. If you are someone who likes to sit back and watch the entertainment, our high octane show is a spectacle you don't want to miss. For those who like to be in the center of the action, the Adventure Park is an experience of a lifetime. Throughout the park, you can ride a zipline, make your way through a ropes course, and walk across a slippery log in the water! Our Adventure Park is sure to be something your family will be talking about for the rest of your vacation!
Check out all our amazing Pigeon Forge show package deals to make the most of your vacation to the Smoky Mountains! We look forward to seeing you soon!