August 16, 2023
Looking for an attraction the whole family will love? You can easily spend most of the day at Paula Deen's Lumberjack Feud and be thoroughly entertained! From our ropes course to our one-of-a-kind show, you're guaranteed hours of fun. Keep reading for the ultimate guide to spending the day at our Pigeon Forge Adventure Park!
Explore Our Adventure Park.
Do you have what it takes to be a lumberjack? Channel your inner flannel and test your skills at our Pigeon Forge Adventure Park! We have 4 unique areas to explore. The Flying Ox is a unique and thrilling ride – a combination of zipline and roller coaster for an incredibly exciting experience. You can also try loggersports, just like what the performers do during our show, including the log roll, boom, run, and speed climb. Unlike our experienced lumberjacks and lumberjills, you're harnessed in and won't be able to fall in the water! Everyone must do the High Woodsman Challenge, our ropes course suitable for ages 5 and up. Secure netting and harnesses guarantee your safety while having fun! Lastly, Timber Towers is an 80-foot freefall adventure that adrenaline junkies will love. Be sure to take advantage of our combo tickets for the Adventure Park and our Lumberjack Feud show to save some money!
Walk around Lumberjack Square.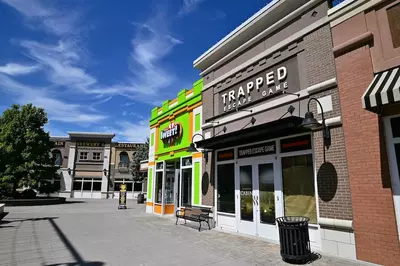 Besides all of the fun at our Pigeon Forge Adventure Park, there are many shops to browse at Lumberjack Square, as well as an art gallery, escape room, and a cinema! From specialty food stores to boutiques, you can find something unique for a gift or souvenir of your time in the Smoky Mountains. You can also grab some lunch at one of several restaurants in Lumberjack Square, including Calhoun's and the Smoky Mountain Brewery.
Grab a sweet treat at The Yard Milkshake Bar.
While browsing the stores in Lumberjack Square, you'll come across The Yard Milkshake Bar, and it's a must if you have a sweet tooth! Their milkshakes are nothing like an average milkshake – they come piled high with toppings and cookies! They also have gluten-free, dairy-free, and vegan options so everyone can enjoy a sweet treat. While they have monthly specials that are always phenomenal, some staples on their menu we recommend are the Cereal Killer (white chocolate marshmallow ice cream with red marshmallow cream drizzle and whipped cream coated in Fruity Pebbles) and the Dolly Parton-inspired concoction (strawberry cheesecake ice cream with rainbow marshmallow drizzle topped with a strawberry and white chocolate cookie dough pop, whipped cream, and lots of sprinkles). Besides their incredible shakes, they also have a large selection of ice cream and edible cookie dough!
Enjoy our supper show.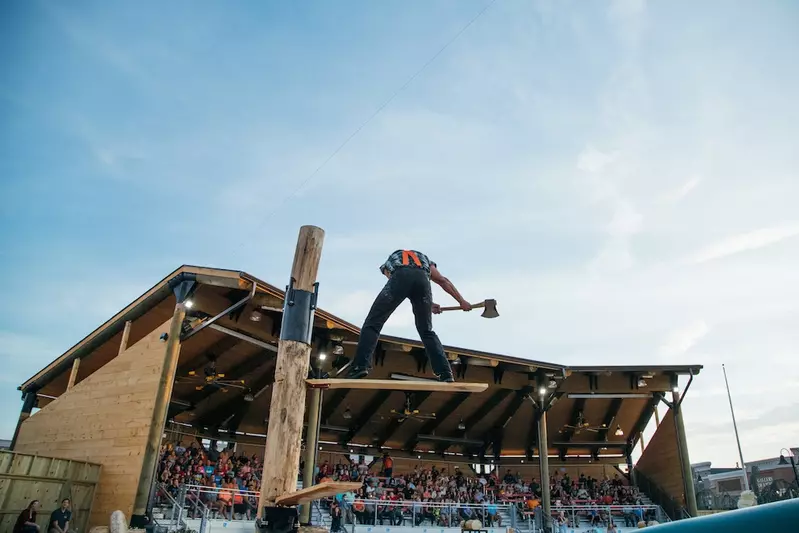 End your day in Pigeon Forge by watching our Lumberjack Feud supper show and enjoying a delicious supper that includes a BBQ sandwich, coleslaw, baked beans, a drink, and a cookie! We also serve fresh popcorn and other snacks at our concession stand during the show. You'll be amazed at the stunts and performances of our talented lumberjacks and lumberjills as they participate in axe, chainsaw, and loggersport competitions. Besides the incredible show of strength and skill, you can expect a lot of comedy and cheering. Kids of all ages will be mesmerized, and the adults will be just as entertained. We highly suggest sticking around to talk with the performers at the end of the show and to take photos!
At our Pigeon Forge Adventure Park, you'll make memories with your family that will last a lifetime! Learn more about why you should plan your next trip to Pigeon Forge TN, and we hope to see you soon!