July 10, 2019
There's a new kind of fun in Pigeon Forge! We know you've heard about our great Lumberjack Feud Show, but did you know you can compete in lumberjack events of your own? Our Lumberjack Adventure Park in Pigeon Forge allows visitors to put their lumberjack skills to the test in their very own lumberjack competition. To help you learn more, we've put together 4 things to know about our Lumberjack Adventure Park in Pigeon Forge.
1. High Woodsman Challenge
One of the most popular aspects of our Lumberjack Adventure Park is the High Woodsman Challenge. This multi-level ropes course is full of obstacles that are fun for everyone ages 5 and up. Our guests don't need to worry about safety because the middle level is completely netted and the top-level will have you safely connected to the course at all times! Everyone from the kids to adults will love seeing if they have what it takes to make it across all of the obstacles.
2. Loggersports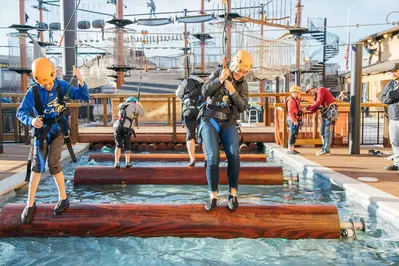 Another fun part of our Adventure Park is the Logger Sports section! You'll get to compete in two of the competitive lumberjack events our professional lumberjacks compete in during the show. The first event is the Boom Run, where you'll race against floating logs. This event originated from a need for lumberjacks to corral timber in ponds by running across the protective booms. The second event you can try is the Log Roll, where you'll fight to keep your balance on the log. Don't worry though — during both events, you'll be harnessed in so that you can't fall into the pool and won't get wet.
3. Timber Towers
If you're looking for a thrill, then Timber Towers is the perfect adventure for you! It is an 80-foot freefall adventure that features two unique freefall jumps. You will jump from our 80-foot towers on controlled jump elements that are sure to make your stomach drop!
4. Lumberjack Adventure Park & Show Package
If you want to play in our Lumberjack Adventure Park AND see our amazing Lumberjack Feud show, you're in luck! We offer a great package deal that lets you enjoy all of the fun. You can enjoy a ticket to our show and entrance to the Adventure Park! The show includes the following: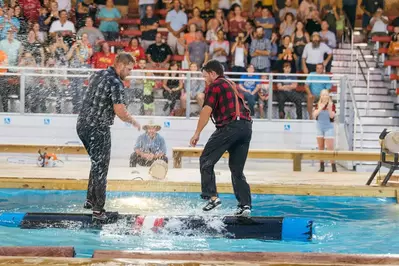 13 competitive lumberjack events featuring world-class lumberjacks
High-energy axe throwing, chopping, sawing, speed climbing, log rolling and other competitive events
Special intermission event just for kids
Climate-controlled grandstands
Entry to our Lumberjack Adventure Park includes all 3 of the parts mentioned above: the High Woodsman Challenge, Loggersports, and Timber Towers.
More About Our Lumberjack Adventure Park in Pigeon Forge
Our Lumberjack Adventure Park is an interactive and thrilling experience that is great for people of all ages. Everyone will love testing their lumberjack skills in their own competitions. This is your chance to earn some bragging rights in your family! There is no better way to spend a day in Pigeon Forge than with us at Paula Deen's Lumberjack Feud. First, watch our lumberjacks compete in the high-energy events during our show, then try it yourself in our adventure park! You can have hours of fun at our attraction.
What are you waiting for? Put your lumberjack skills to the test and get your tickets to our Lumberjack Adventure Park in Pigeon Forge today!