May 27, 2022
When you visit Paula Deen's Lumberjack Feud, you'll have the opportunity to join in on all the lumberjack fun yourselves! Visit our Adventure Park to channel your inner flannel. Our park is home to 4 unique areas that are packed with exciting lumberjack-themed activities for you to enjoy. We're sharing all the details about 4 fun activities at our Adventure Park in Pigeon Forge:
1. The Flying Ox
Want to try something so unique that it's the first of its kind in the world? Visit our Adventure Park and try The Flying Ox! The Flying Ox is a one-of-a-kind zipline experience that's a mixture of a roller coaster and a zipline. It takes riders on a thrilling ride around Lumberjack Square. Strap into your ziplining position and hold on tight as you go on a 1,000-foot-long ride that's 80 feet up in the air! Instead of traveling in a straight line like on a normal zipline, The Flying Ox will take you on twists and turns through the air while you experience heart-pumping drops. If you're up for a thrill, this is the perfect adventure for you!
2. The High Woodsmen Challenge
Do you love high ropes courses? Then you'll love our High Woodsmen Challenge! This fun activity at our Adventure Park in Pigeon Forge is a lumberjack-themed ropes course. It's packed full of obstacles that everyone ages 5 and up can enjoy. When you're making your way across the top level, you'll be safely connected to the course at all times. The middle level of the course is completely netted for safety! Test your skill and your balance on this unique and exciting high ropes adventure.
3. Loggersports
Are you ready for some true lumberjack events? Put your lumberjack side to the test when you enjoy our Loggersports activities! First, try the Boom Run, during which you'll have to see if you can make it across the logs without falling in the water. Next, try the Log Roll, during which you'll go head to head with your competitor to see who can stay on the log the longest. Don't worry, you'll be harnessed in for both events so that you won't actually fall in the water! Finally, you can try the Speed Climb. During this fun event, see how fast you can climb to reach the top of the pole! You'll love getting to try these events yourselves before or after watching our professional lumberjacks do them during our Lumberjack Feud Show.
4. Timber Towers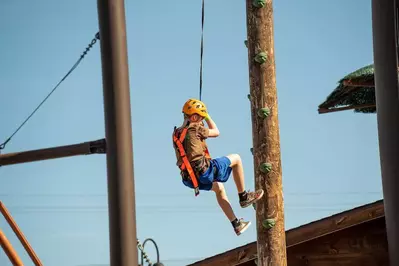 Another thrilling activity is Timber Towers. Your heart will be racing on this 80-foot freefall adventure. You'll leap from the 80-foot towers on 4 different controlled jump elements that will each make your stomach drop. Take in the Smokies from a whole new view before free-falling to the bottom!
Visit Our Adventure Park in Pigeon Forge Today!
We bet you can't wait to try all of these exciting activities at Paula Deen's Lumberjack Feud! Learn more about our Adventure Park in Pigeon Forge, then come and visit us.