March 28, 2022
Are you trying to decide what you're going to do on your next trip to Pigeon Forge? Look no further than our incredible show! You'll have a blast watching the Dawsons and the McGraws compete in several athletic events, and after you've been on the edge of your seat watching the lumberjacks compete, you'll want to head over to the Adventure Park to try some of the events yourself. If you're still not sure about making us a part of your trip, check out these 5 reasons why you should make Paula Deen's Lumberjack Feud a part of your vacation plans:
1. It's Fun for Everyone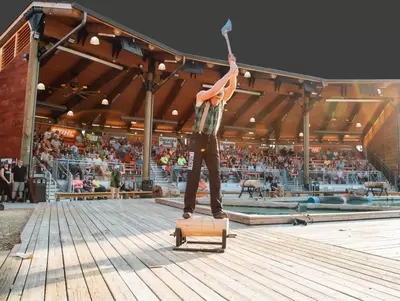 It doesn't matter if you have young children or grandparents in your crew, everyone will love watching our Pigeon Forge show. Our show is designed to capture the attention of people of all ages with interactive portions and the hilarious banter between the Dawsons and the McGraws. You'll all have a blast while you enjoy watching the show!
2. You Get to Interact
One of the best parts of Paula Deen's Lumberjack Feud is getting to participate in the fun! At some shows, you are just the audience, but with us, you're a part of the family. As soon as you step foot into the grandstand, you'll be assigned to the Dawsons or the McGraws, and our host encourages everyone to root for their family. Getting to yell "YO HO!" when your family wins an event and wildly waving your hands so you can take home a lumberjack cookie is just part of the fun. You'll love being a part of the show!
3. Watch an Exciting Show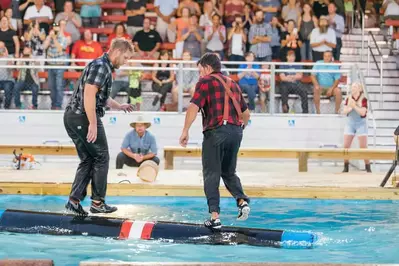 Of course, the main reason why you should make us a part of your vacation plans is because our show is exciting to watch. There aren't many other shows in the area that will keep you on the edge of your seat and unable to look away like ours. You won't believe your eyes when the lumberjacks start throwing axes, running across logs, and climbing 60-foot log towers. Your heart will race throughout every event!
4. Explore the Adventure Park
At Paula Deen's Lumberjack Feud, you can enjoy our show and then head to the Adventure Park for even more fun. You won't find another show in the area that includes an attraction like this! Get harnessed in and make your way through the obstacles on the High Woodsman Challenge ropes course. Try your hand at some of the events you saw in the show in Loggersports, which include the speed climb, log roll, and boom run. And if you want to get your adrenaline pumping, hop on the Flying Ox or jump from Timber Towers!
5. Save Money With Packages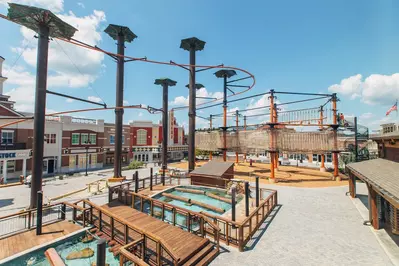 When you are planning your trip, you are probably looking for ways to save money and have fun, and you can do both when you check out the packages we offer. If you want to see the show and play at the Adventure Park, you can save quite a bit of money when you purchase tickets together. For another great deal, call our box office to find out about dinner and show options with the restaurants in Lumberjack Square. You'll love being able to see our show and keep some money in your pocket!
You'll be glad you chose to spend time with us on your trip to Pigeon Forge. Are you ready to reserve your spot? Book your tickets to Paula Deen's Lumberjack Feud now!