June 14, 2021
The Flying Ox is the first of its kind in the world! This awesome zipline roller coaster takes you to new heights and speeds as you take in our adventure park and the rest of Pigeon Forge from above. This thrilling ride is for all ages and is meant to be enjoyed by the whole family. Here is everything you need to know about the Flying Ox at our lumberjack adventure park:
1. The Flying Ox is a Cable-to-Rail Zipline Coaster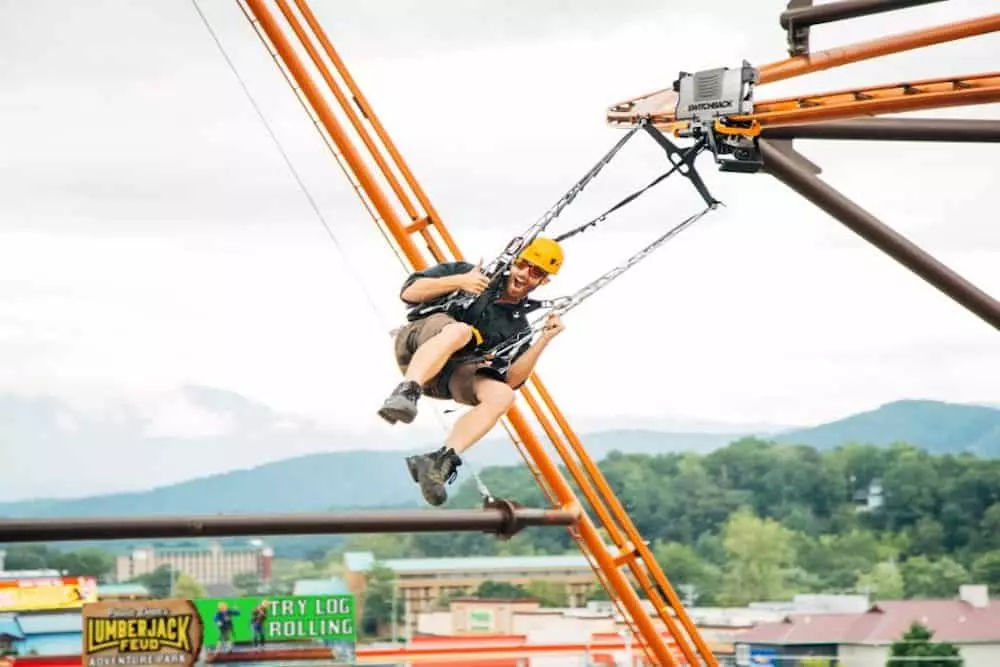 Combining the feeling of flying on a zipline and the adrenaline rush of a roller coaster, the Flying Ox is the only ride of its kind in the whole world! Strap into your ziplining position and hold on as this coaster takes you on a 1,000-foot-long ride, 80 feet up in the air. On the Flying Ox you won't just be traveling in a straight line like a zipline, but instead you'll wind through the air while experiencing drops and heart-pumping turns. The average speed of the ride is around 15 miles per hour, so you'll feel like you're going super fast while remaining at a safe speed the entire time.
2. The Flying Ox is Included in Your Adventure Park Ticket
One of the best parts about the Flying Ox at our adventure park, is that it comes at no additional cost to you! When you buy a ticket to the Lumberjack Feud Adventure Park, you'll have access to all the fun rides and activities you want. You can ride the Flying Ox as many times as you want during your visit to the park. Ticket prices are $39.99 for adults and $34.99 for kids. Strap your helmet on and get ready to adventure like a real lumberjack!
3. This Ride is Meant for Everyone
Ages 5 and up are welcome to ride the Flying Ox and check out all the awesome parts of the park! Our family friendly show and park activities are designed so everyone in your group has a great time! When you purchase our Show and Adventure Package you can save up to $10 to $15 per person. Young and old all love the Flying Ox and keep coming back for this one-of-a-kind ride every time they visit! Bring your whole family and let them experience the Flying Ox and lumberjack adventure park for themselves.
4. Other Things To Do in Our Adventure Park
After you've had your fun on the Flying Ox, make sure to check out all the other exciting activities at our adventure park! Try your hand at Loggersports for a chance to compete in your own lumberjack events like the Boom Run, Log Roll and Speed Climb. You can also try the High Woodsman Challenge where you will see how fast you can make it through the multiple-story obstacle course. Finally, you have to check out the Timber Towers. Using controlled jump elements, you can jump from 80 feet for some stomach-dropping action!
Now that you know everything about the Flying Ox, you can make sure to get a ticket on your next visit. Want to know more about our lumberjack adventure park? Check out everything we have to offer and how to become your own lumberjack! We look forward to seeing you!