April 18, 2023
One of the best things about our Pigeon Forge show is that it is entertaining for all ages, from parents and grandparents down to children! We have incorporated all different aspects that appeal to everyone, including live-action, competitions, crowd interaction, comedy, and so much more. In addition to family trips, you can also attend our show for a group activity, which includes school field trips! Here are 4 reasons our show in Pigeon Forge is great for school groups:
1. Entertainment for All Ages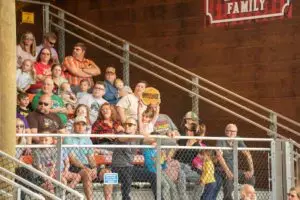 Whether you want to bring an elementary school class or a group of high school seniors for their graduation treat, our show is entertaining and relatable for all ages. You will find that everyone in the stands will be on their feet cheering on our lumberjacks and hoping that their assigned family takes home the prize. In addition to non-stop action, we have bits of comedy, feats of strength, and much more to offer during our hour-and-a-half performance.
2. Special Group Rates
When planning a large group trip, you may be on somewhat of a budget and you want to get the most value for your money. You will be glad to know that we offer discounted rates for groups of 15 people or more, which is great for school groups. The only requirement is that one person calls us or fills out the request form online and prepays for the group. We encourage you to make your show reservations for large groups as soon as possible so that the shows you are looking to attend do not fill up. Feel free to contact us anytime with any questions regarding your large group reservations.
3. Two Activities in One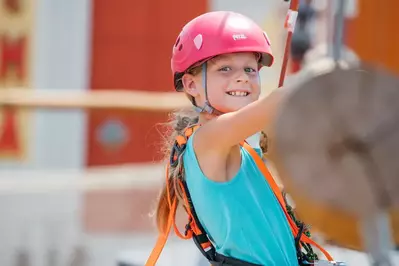 You will find that containing a large group of schoolchildren is not as easy as it may seem. The good news is that you can enjoy an entire day of fun at our location without having to travel throughout Pigeon Forge. Before the show, let your kids take part in the exciting Adventure Park, which features several activities that they will see during the show, including the Boom Run, Log Roll, and Speed Climb. We also have a lumberjack-themed ropes course and the first-of-its-kind experience which combines a roller coaster and a zipline! Don't worry, the teachers and chaperones are more than welcome to join in on the fun as well!
4. Fantastic Dining Options
The greatest advantage of bringing your group to see our show in Pigeon Forge is that we take care of it all. Instead of having to make reservations at a local restaurant, you can eat while you enjoy the show at our park. Lumberjack Square is filled with all sorts of wonderful dining options, including Smoky Mountain Brewery, Calhoun's, and Five Guys. You can order takeout from one of these places or any other restaurant and bring it with you to enjoy while you watch the lumberjacks in action. We also have a convenient concession stand that has snacks and drinks available for purchase!
Are you interested in bringing your group to see our show in Pigeon Forge? Check out our group information to get the trip started! We look forward to welcoming you to the Smoky Mountains!