November 10, 2021
The Smoky Mountains is the ideal spot to host a family reunion. You have the ability to rent a large cabin so everyone can stay in one place. Also, there is an array of amazing restaurants and attractions in the area. The next time you are in town with your family, be sure to bring the gang to see us. Here are 4 reasons our Pigeon Forge show is perfect for family reunions:
1. Fun for Everyone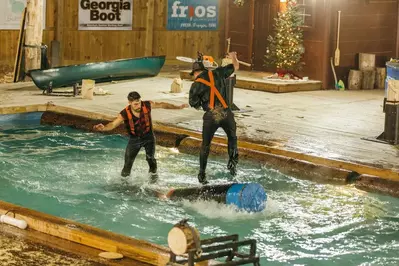 Our show features a little something for everyone. Whether you are coming to see displays of athleticism, side splitting comedy, or a friendly competition, our show has it all! You will be amazed by the talent of our real lumberjacks as they tackle a multitude of challenges, including the axe throw, log roll, and speed climb! After you watch the professionals, you can test out your skills at the Lumberjack Adventure Park. It features four different lumberjack activities that your whole family can try out for yourselves! We guarantee it is not as easy as the lumberjacks make it seem to be!
2. Family Feud
If you are visiting our show with a large group of family members, you probably understand all about family rivalries. That is the premise of our amazing show, so your group will fit right in! During the event, you will watch the Dawson and McGraw families as they compete to see which family reigns supreme and can claim the title of the ultimate lumberjacks. There will be plenty of feuding as the two families compete in an old-fashioned competition. Throughout the event, there is plenty of audience participation so don't be afraid to cheer on your favorite family!
3. Great Year Round Show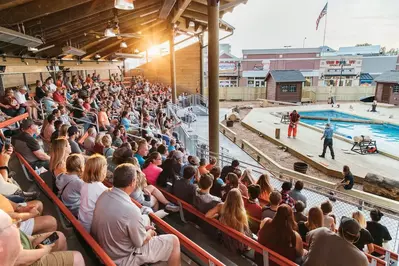 No matter what time of year you are planning to visit the Smokies for your family reunion, our show is always the place to go! Even though the show is outdoors, our climate-controlled grandstands make your family comfortable, regardless of the weather. While our Jacks can handle any type of climate, we strive to make sure your family stays dry and cozy.
4. Group Discounts
Paula Deen's Lumberjack Feud is the perfect show for all groups, including family reunions. One of the best things about visiting our Pigeon Forge show with a large group is that you can get discounted tickets! We offer discounted rates for groups of 15 people or more with an advance reservation. It is always a good idea to plan ahead when you are coming with a large number of people because shows sell out quickly. There are a couple of different ways to book your reservation in advance. You can either call our show or fill out the group form on our website! The only thing better than seeing a marvelous show in Pigeon Forge is experiencing all the fun at cheaper prices!
Our Pigeon Forge show is perfect for celebrating your family reunion in the Smoky Mountains. Be sure to check out more details about the show so you know what to expect when your family arrives! We hope to see you soon!