November 07, 2023
Visiting the Smoky Mountains during the holiday season is an extra special experience for the whole family. From twinkling lights to delicious food and entertaining shows, there's plenty to see and do this time of year. Keep reading to find out the top things we know you will love about spending Christmas in Pigeon Forge!
1. Winterfest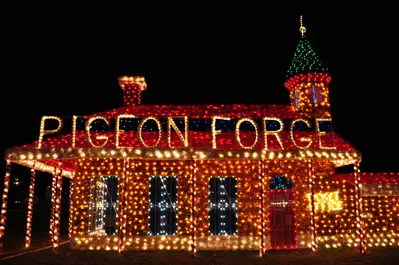 Millions of shimmering Christmas lights and giant displays pop up along the Parkway, all the way from Sevierville to Gatlinburg. In the middle, Pigeon Forge showcases some pretty incredible light shows, like the displays at Patriot Park and the Riverwalk Trail. You can take the Pigeon Forge trolley or do the Winterfest Lights Driving Tour from your own vehicle. With your favorite holiday music playing through the speakers, it's the best way to experience the magic of Winterfest in the Smoky Mountains.
Pigeon Forge is known for its variety of unique shops, and Lumberjack Square has something for everyone, from clothing boutiques such as The Coal Miner's Daughter Mercantile, The Dugout, a sports collectible store, Pepper Palace, a great store to browse an extensive collection of hot sauces, and a gourmet popcorn shop. Since it's never too cold to enjoy ice cream, The Yard Milkshake Bar is a great spot for a sweet treat with their one-of-a-kind milkshake creations. It's easy to spend the majority of your day exploring the square before heading over to our spectacular Christmas show!
3. Lumberjack Feud Christmas Show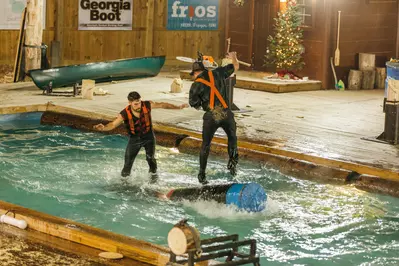 We are proud to be one of the best Christmas shows in Pigeon Forge that brings the spirit of Christmas alive! You'll find an enormous Christmas tree, dazzling displays of lights, and an infectious atmosphere of holiday cheer. Beginning at 4:15 PM each day, Santa will be at the large Christmas tree for photos, and he will also be featured in the pre-show before the main event festivities truly begin.
The show itself features the same jaw-dropping performances and competition with our dedicated crew of lumberjacks and lumberjills as the traditional show but with an extra dose of the festive spirit. We guarantee it will be a whole new experience from our regular family-friendly show, especially with the backdrop of bright Christmas lights! Since our lumberjack show in Pigeon Forge is also a supper show, you can enjoy a delectable holiday meal consisting of a hearty turkey sandwich, dressing, sweet potatoes, cranberry sauce, and dessert. And you'll definitely want to grab a hot chocolate from the concession stand, too! We highly recommend arriving right at 4:15 PM, so you have plenty of time to meet Santa and get your meal before arriving at your seat for the 5 PM show.
Now that you know what to love about Christmas in Pigeon Forge, find out why we have the best supper show in town and get your tickets for our special Christmas show before the end of the season!