October 12, 2021
If you're planning to come see our Pigeon Forge show and spend some time at our adventure park, there are a few things you may not know about all the activities available at our park. From our coasters to loggersports, there is so much fun to be had at the park! Here are 4 things you didn't know about our Lumberjack Adventure Park:
1. We Have the World's First Zipline Coaster
If you haven't heard of The Flying Ox, you're in for a treat! This cable-to-rail zipline coaster is the first of its kind in the world! Combining the exhilaration of ziplining with the adrenaline rush of a roller coaster, this ride is unlike anything you've ever tried. Fly 80 feet in the air over a 1,000-foot span and hold on tight! Get ready for surprising drops and quick turns, all while traveling at a safe speed of 15 miles per hour. Make sure you take in the Smoky Mountain views while you're zooming over our Lumberjack Adventure Park.
2. Our Loggersports are Open Year Round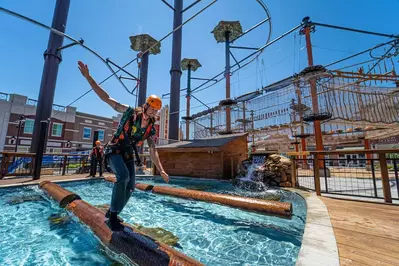 It doesn't have to be spring or summer for you to try out a few of the lumberjack events for yourself. Even in the cooler months, you can check out the Loggersport opportunities like the Boom Run, Log Roll and Speed Climb. During all water events, you're harnessed in and won't be able to fall into the pool. You'll stay dry and warm even if you're visiting us during the holiday season! After you enjoy our Lumberjack Feud show, head towards the park and see if you have what it takes to hang with our world-class lumberjacks and lumberjills!
3. Anyone Can Do the High Woodsman Challenge
If you're worried that your little ones won't be able to participate in the park's activities, we have created a safe and fun obstacle course that they can enjoy! Anyone 5 and up can try out this multi-leveled course. Try different lumberjack-themed obstacles all while being completely netted and safe. We want even the smallest of lumberjacks and lumberjills to have a fun time when they visit our adventure park, so we have taken all the necessary precautions to ensure they have a blast and you don't have to worry about their safety.
4. We Offer Stomach-Dropping Heights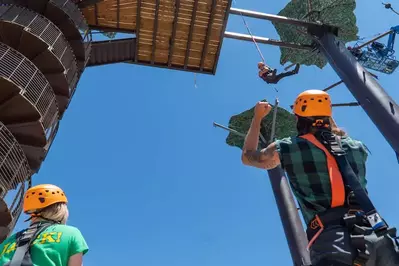 We hope you're not afraid of heights because we have a freefall adventure you aren't going to want to miss! Next time you visit our Lumberjack Adventure Park, head toward the Timber Towers and see if you're brave enough to tackle these jumps. With four 80-foot controlled jump options, you can take in the Smokies from a whole new view before freefalling to the bottom. Prepare for your stomach to drop and your mind to be blown at this awesome park activity!
Now that you know a little bit more about our Lumberjack Adventure Park, you can plan to come test your lumberjack skills next time you visit us. Have you seen our family-friendly show yet? Check out our show and park packages and save money on your next lumberjack adventure!